Welsh Lib Dem William Powell AM warned on inappropriate behaviour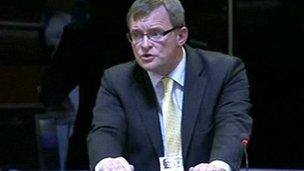 Lib Dem AM William Powell has been given a formal written warning after a young activist complained of his inappropriate behaviour, it has emerged.
The woman, now 21, alleged that in 2011 he gave her and two other women the strong alcoholic drink absinthe, touched her leg and put his hands round their waists.
The Mid and West Wales AM offered an unreserved apology.
The Lib Dems confirmed the warning.
The article also refers to allegations about the behaviour of the former Liberal Democrat MP for Montgomeryshire Lembit Opik.
It claims he tried to kiss the activist when she was 17. Mr Opik denies the allegations.
In a statement on Saturday the Welsh Lib Dems said they received an anonymous complaint in May last year about William Powell's behaviour in an incident in June 2011, after the complainant had spoken to the chair of her local party.
She said she did not want to pursue a formal grievance procedure and wished to remain anonymous, but wanted the party to be aware of the issue.
The Welsh Lib Dems say the complaint was treated seriously, a report was compiled and passed to its chief whip in Cardiff Bay, Aled Roberts.
Mr Powell was interviewed by Mr Roberts and given a formal written warning that such behaviour would not be tolerated.
He was told any future misdemeanour could result in "more serious sanctions being imposed".
The party says that no further complaint has been received since.
William Powell himself said in a statement: "I am aware of an anonymous complaint having been made.
"The complaint was put to me by the chief whip and I cooperated fully with him in this matter.
"I apologised to the chief whip and offered an unreserved apology, through him, to anyone else for any hurt or offence caused and I would certainly wish to do so again, in writing or in person."
The incident is a further embarrassment for the Liberal Democrats.
At Westminster they have suspended the MP Mike Hancock after a report into claims of sexual misconduct towards a female constituent was leaked, and suspended the party membership of Lord Rennard after he refused to apologise over claims of sexual harassment that he denies.
Related Internet Links
The BBC is not responsible for the content of external sites.