'Robust plans' for high tides flooding risk, says minister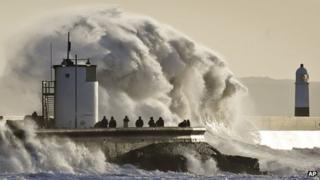 "Robust" plans are in place to protect people and properties from high tides predicted for next month, the natural resources minister has said.
Alun Davies was giving evidence to the assembly's environment committee.
Tides of up to 7.8 metres (25ft), the second highest of the year, are forecast for the start of February.
High tides, heavy rain and winds produced huge waves which battered the Welsh coast at the start of the year, leaving widespread flooding and damage.
Over Christmas and New Year, flooding damage stretched across the country from Deganwy in Conwy county to Gower but it was Ceredigion - particularly Aberystwyth seafront - that was worst hit.
Aberystwyth promenade suffered severe damage including the partial destruction of a Grade-II listed seafront shelter.
Mid and West Wales Labour AM Joyce Watson expressed concerns the high tide would "put properties immediately at risk in the current climate, with all the rain that's coming this weekend and the saturation levels that are already in place".
Mr Davies replied: "I have absolute confidence in the work that NRW (Natural Resources Wales) has done, and in the work that local authorities are undertaking, to feel that we are able to provide the reassurance that you seek, and that the plans in place are sufficiently robust as to keep people safe and keep communities safe.
"In terms of understanding the impact of the sort of tides and storms that you describe, it is of course the role of NRW to provide these warnings, based on the forecasts that we receive."
Mr Davies added that he believed the forecasts were "accurate and robust" and that NRW "could act on the basis of those forecasts".
The minister told AMs Welsh public bodies had sufficient capacity to deal with any future flood damage and that the flooding budget has increased by more than 40% in recent years.
Committee chair and Plaid Cymru AM Lord Elis-Thomas asked the minister if the "Welsh government, NRW and local government have the capacity to deal with the kind of event we had a fortnight ago if it were to happen again."
The minister said those bodies did have the capacity to deal with "similar events in the future".
Mr Davies added: "My assessment of the way that we have responded to the two events recently is that the NRW did respond particularly well, bearing in mind that the organisation is still in its first year and the way that it was able to bring resources together and move them around does actually reflect our aspiration that we should create a bigger organisation that has greater flexibility."
He also praised the response of local councils, particularly Denbighshire and Ceredigion.
There are also concerns more flooding could occur this weekend following a Met Office warning for Friday of heavy rain and gales across Wales.