Nearly 400 more civil servants employed by Welsh government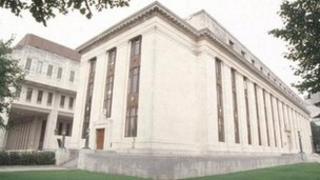 Nearly 400 extra civil servants were hired by the Welsh government in the last two years while the number employed across the UK fell.
From December 2011 to December 2013 Welsh government permanent and temporary staff rose by 391 to 5,777.
Between March 2012 and March 2013, UK civil servant numbers fell by 3%, and by 7% the year before.
Welsh ministers said staff numbers had fallen by 1,100 in the previous two years, between 2009 and 2011.
A statement added that there had been a slight increase since 2011 as the Welsh government assumed more responsibilities, but said like-for-like running costs were now around 10% lower than they were in 2011/12.
The numbers of civil servants directly employed by the Scottish government fell from 5,200 to 5,100 between September 2011 and September 2013.
Conservatives said the recent 7% increase in Welsh government civil servants was "significant".
Assembly shadow finance minister Paul Davies said: "At a time of considerable public spending restraint all public bodies, the Welsh government included, should be tightening their belts to help reduce the UK's massive budget deficit left by Gordon Brown's Labour government.
"It is a bit rich for the Welsh government to whinge about reductions in its budget if its own workforce and presumably its running costs and staff salary bills are rising at more than double the rate of inflation."
Apprenticeship programme
In response, a Welsh government spokesperson said: "Between December 2009 and December 2011, the number of Welsh Government staff fell by more than 1,000.
"Since 2011, staffing numbers have increased slightly as we have assumed responsibility for a wider range of subject areas, and a stronger legislative role.
"These changes have led to a small increase in numbers of staff in some specialist areas, such as legal services and planning.
"At the same time, we have started a successful apprenticeship programme, which has seen over 150 young people trained for future employment, many of whom have successfully gained permanent employment within the Welsh government.
"It is worth noting that despite the slight increase in staff numbers, our like-for-like running costs are around 10% lower than they were in 2011/12."