Concerns over fall in flood risk staff numbers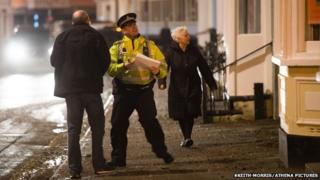 Concerns have been raised after the recent storms over a fall in the number of staff dedicated to flood risk management in Wales.
The number at Natural Resources Wales (NRW) and its predecessor body has dropped from 325 to 300 since 2009.
Conservatives are holding an assembly debate on flooding on Wednesday and say flood defences should be a priority.
On Tuesday, Welsh ministers announced an additional £2m to repair flood defences damaged in the storms.
High tides, heavy rain and winds which produced exceptionally large waves battered the Welsh coastline for days at the start of the year, leaving widespread flooding and damage.
Aberystwyth promenade suffered severe damage including the partial destruction of a Grade-II listed seafront shelter.
Shadow natural resources minister Russell George told BBC Wales: "I visited Aberystwyth myself, and the sheer scale of the devastation is really unprecedented.
"It's not what we've seen for many, many years - certainly not in my lifetime.
"We recognise that there are cuts to be made in other areas, but we just believe that flood defences are a priority."
Mr George said the Conservatives were concerned at the fall in staff directly engaged in flood risk management at NRW and its predecessor, Environment Agency Wales.
He said the party would use the debate to call for schemes combining flood defences with generating renewable energy.
"There has to be a limit (on) how much you are going to spend on flood defences," he said.
Flood defences
"But what we want to see is the best use of that funding.
"And we particularly want to see flood defences dual up also as renewable energy projects as well."
In a statement to assembly members, Natural Resources Minister Alun Davies said he was determined to help authorities facing "significant costs" to repair essential flood defences.
"I have reviewed my flood and coastal erosion risk management budgets and will be making £2m available this financial year to support emergency works to our flood defence infrastructure," he said.
"I can also confirm that around £9.5m has already been allocated this financial year for repairs at Borth, Colwyn Bay and West Rhyl in order to improve vital coastal defence schemes."
In a separate statement, before Wednesday's debate, NRW Chief Executive Emyr Roberts said: "When Natural Resources Wales was formed on the 01 April 2013, the Welsh government made it clear that protecting communities from flooding, and responding to flooding should be one of our main priorities.
"Our staff were on the front line during the storms before Christmas and during the recent coastal flooding, helping to protect communities from the devastating impact it causes.
"Since our formation, the numbers of staff working within flood risk management has increased compared with the previous year, and we will continue to prioritise this important area of our work.
"We will be investing more than ever this year - £38m - to protect people from flooding, targeting our resources at the most vulnerable communities in Wales.
"We'll also continue to work closely with at risk communities to help them take action themselves to prepare and protect their homes from flooding."