Average Welsh farm business income drops 30%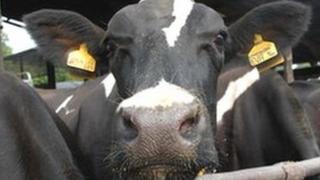 The average farm business income in Wales fell by 30% to £28,400 last year, latest figures show.
Dairy farms' income was £45,100, while that for cattle and sheep farms was £22,900 in less favoured areas, and £30,200 for lowland farms.
Ministers said changes to the system for EU Common Agricultural Policy (CAP) payments would help incomes grow.
NFU Cymru called the figures "alarming" and said the CAP changes would put farmers under more strain.
The figures were published by the Welsh government's independent statistics and research department.
Natural Resources and Food Minister Alun Davies said the data reflected the difficulties farmers had faced in the past two years.
Independent review
"Following last spring's severe weather I put in place a number of measures to help farmers recover from the effects of the bad weather," he said.
"These included £500,000 via farming charities, ongoing one-to-one support through Farming Connect, the relaxation of rules around on-farm burial and early single payments for farmers in affected areas."
Mr Davies said he believed the best way to protect and grow farm incomes was to "increase the capacity of farm businesses to cope with setbacks".
"That is why I asked former NFU director general Kevin Roberts to undertake an independent review into the resilience of the Welsh farming industry and it is why I have made the decision to transfer 15% of CAP funding from Pillar 1 to Pillar 2," he said.
It means some of the money that would have gone to farmers as direct payments will instead be spent on rural development projects.
"I want to ensure the long-term, rather than just the short-term success of Welsh agriculture and put Wales on the strongest possible footing to face the challenges ahead," Mr Davies added.
The minister is expected to make a statement on Mr Roberts's review to AMs next week.
'Serious repercussions'
NFU Cymru said the new policy on CAP payments had dealt farmers a significant blow.
A union spokesman said: "NFU Cymru has consistently argued against this deeply unpopular decision as it will put a further strain on farm incomes in Wales over the coming years.
"The union is of the firm view that this further undermines our resilience.
"There are no guarantees that farmers will be able to recover the income that they will lose from this transfer process."
Plaid Cymru said Welsh ministers had made a fundamental error in making a 15% cut in the budget for direct payments to farmers.
The party's agriculture spokesman Llyr Gruffydd said: "Welsh farmers are much more dependent on EU funding than other UK nations, which means that taking hundreds of thousands of pounds out of their businesses will have serious repercussions for their viability and competitiveness."