Tougher employment terms threat withdrawn by Cardiff council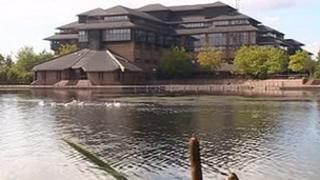 A threat to impose tougher employment terms on Cardiff council staff if they failed to back new terms and conditions has been withdrawn.
The council's cabinet agreed proposals for £4.9m of cuts to help bridge a £50m budget shortfall for 2014/15.
Under the plans some staff's working hours would be cut by an hour per week and senior managers pay cut by 2.7%.
The cabinet decided there should be further discussion with trade unions on alternatives if there was no agreement.
The warning that new terms and conditions could be imposed on staff was in a cabinet report by the authority's chief executive, Paul Orders.
The document said such a plan would involve dismissing staff and offering them new contracts that could include cutting redundancy payments to the legal minimum, withholding any national pay award agreed for 2014/15 and reviewing terms and conditions for occupational sick pay.
An amendment to the recommendations in Mr Orders report has been made which now reads: "...should any of the trade unions determine not to ballot or one of the ballots results in a no vote, that delegated authority be granted to the chief executive in consultation with the cabinet member for finance and economic development and corporate director resources, to determine other items that will need to be implemented including steps to potentially implement an alternative package following further discussions with trade union partners in order to achieve the savings required..."
The cabinet believes the package of measures it is proposing will protect 194 jobs and hopes trade unions will now agree to ballot their members on the plans.
'Unthinkable'
The senior Labour councillors also agreed to cut their own pay by 2.7% and urged other councillors to do the same.
Council leader Heather Joyce said: "It would be unthinkable for workers to face these changes on their own.
"I want to make it clear if an agreement is reached our cabinet would take an equivalent reduction in our allowance.
"In Cardiff, if nowhere else, we are all in this together.
"I want this to be clear not just from our words but from our actions," she added.
Martin Hird from the GMB union said its members would now be balloted on whether to accept or reject the council's proposals.
He described the threat, which has now been withdrawn, as "unhelpful" but "predictable".
"Threats like that hanging over workers are not a good thing," he said.
"It creates more uncertainty, more worry at a very difficult time.
"But if the council have removed that then we welcome that."