Royal commission-Cadw merger plan shelved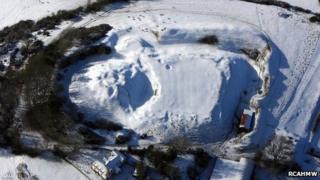 Plans for a shake-up of the body that investigates historic sites in Wales have been shelved.
Heritage Minister John Griffiths has announced the Royal Commission on the Ancient and Historical Monuments of Wales will not merge with the Welsh government's conservation body Cadw.
Mr Griffiths's predecessor, Huw Lewis, had wanted to unify the two bodies.
An assembly committee found unease among academics and heritage groups when it held an inquiry into the plan.
The commission has been investigating historic buildings and archaeological sites since it was founded in 1908.
Its archive in Aberystwyth houses millions of pages of documents and images on Welsh heritage.
'Endorsement'
It employs about 45 people at its headquarters in the Plas Crug area of the seaside town.
Mr Griffiths's announcement follows the publication of the response to the Welsh government's consultation 'The future of our past'.
An inquiry into the plan by the National Assembly's Communities Committee found unease among academics and heritage groups who gave evidence to the committee in January 2013.
Mr Griffiths said: "The consultation response to the proposals to merge Cadw and the Royal Commission was mixed.
"Having carefully considered these views, in addition to the evidence and analysis undertaken by my officials, I've decided that both organisations will remain separate for the time being.
"This avoids the financial costs, organisational risks and disruption to the sector at a time when public resources are scarce."
The commission's acting chief executive, Hilary Malaws, said she was "very pleased we can continue to operate as an arm's length body from government".
She added: "The minister's decision is an endorsement of the work being done by the commission."