Severn Bridge tolls increase prompts plea for changes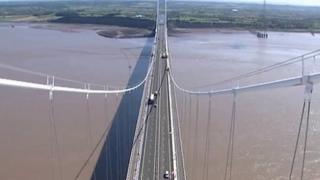 Business leaders have voiced concerns ahead of a rise in toll fees on the two Severn Bridges from 1 January.
The cost of crossing into Wales by car has increased to £6.40 - a rise of 20p - while small goods vehicles must now pay £12.80 (a 40p increase) and HGVs £19.20 (a 60p increase).
One Cardiff freight firm said the hike will take its tolls bill to £200,000.
Bridge operators said the tolls were agreed by a parliamentary order and in line with the Retail Price Index (RPI).
The bridges are currently run by a private company but will pass to the UK Government once takings from the tolls reach £996m at 1989 prices.
The Freight Transport Association (FTA) said the tolls should be no greater than the cost of maintaining the bridges.
Ian Gallagher, the FTA's head of policy for Wales and the south west, said: "The tolls must be reduced as soon as the bridges pass into public ownership.
"As we look to the future, it is clear that the method by which the Severn Crossings were funded is not a suitable blueprint for new infrastructure projects, and we would call for government to steer well clear of any similar schemes."
'Big impact'
The M4 and M48 bridges are used by about 80,000 vehicles every day.
The company's concession is forecast to end in 2018, a deadline that has lead to increased calls for a reduction in prices.
Geoff Tomlinson, managing director of Cardiff-based Freight Systems Express (Wales), which employs 32 staff, said the business has started to transport more goods by rail to cut costs.
"An increase of 60 pence per journey for heavy goods vehicles from January 1 may only seem like a minimal amount but for companies like ours it will have a big impact," he added.
"In 2014 our annual Severn Bridge bill will be in the region of £200,000.
"We are increasingly moving our vehicles from road to rail, in part because of the environmental benefits, but also because over the last few years the costs of road transport have spiralled, thanks to increasing bridge tolls, road tax and fuel costs.
"We certainly are not the only ones to be affected.
"A number of businesses in Wales have moved their offices across the bridge towards Bristol, which is a real kick for the Welsh economy at an already difficult time."
A recent consultants' report revealed that the abolition of bridge tolls could boost the economic output in Wales by £107m.
The Welsh government would like to take control of the tolls in future and would look to reduce them although it believes abolishing them would leave too great a hole in the budget.
First Minister Carwyn Jones has said he would like to see if there could be "greater flexibility and scope" in what motorists are charged.
The bridges are run by a private company but the Welsh government wants to take control when they return to public ownership in about 2018.
A spokesman for the UK Government's Department for Transport said any future arrangements must not only "provide for future maintenance [but] ensure costs are recovered".
In a statement, Severn River Crossing (SRC) Plc said it amends the tolls at the start of each year in "strict compliance" with the Severn Bridges Act 1992.
"The Act sets down the precise method and base prices for setting toll levels and the adjustment to next year's toll levels, like this year, is in accordance with RPI.
"The new toll levels are confirmed each year by a Parliamentary Order made in December which authorises SRC to adjust tolls to the revised levels."