More train powers for Welsh ministers call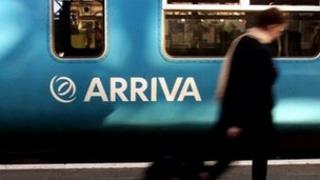 Welsh ministers should decide who runs most of Wales' railways, a cross-party committee of assembly members has said.
The Arriva Trains Wales franchise, which includes lines across the border in England, is up for renewal in 2018.
The original contract, which assumed no growth in passenger numbers, was previously described by a former transport minister as flawed.
The AMs say Welsh ministers, rather than Whitehall, should decide who runs the service to avoid similar mistakes.
It would mean the Welsh government would be in charge of trains that run to Hereford, Ludlow and Manchester.
Two years ago, former Transport Minister Ieuan Wyn Jones said the original Arriva Trains Wales contract was flawed because it did not anticipate a substantial increase in passenger numbers, leading to overcrowding on trains.
He inherited the contract in 2007, when he led Plaid Cymru into a coalition Welsh government with Labour.
On Wednesday the Enterprise and Business Committee also called for an early decision so rolling stock could be ordered in time.
It said this was particularly important because many of the lines were due to be electrified over the next decade.
Most train services in Wales are run by Arriva Trains Wales, apart from the Great Western line and express services along the north Wales coast.
'Value for money'
Committee chair Nick Ramsey said the franchise renewal offered Welsh ministers a "real opportunity" to ensure better services.
"By establishing strict requirements for stations, facilities and performance monitoring - as well as financial transparency regarding profits and subsidies - the next franchise has the potential to significantly improve rail services for passengers while delivering value for money," he said.
"We also want to see a franchise which is integrated with other public transport services including the proposed South Wales Metro and bus infrastructure."
In a statement the Welsh government said: "We are committed to taking an active role in the specification of the next franchise and are seeking a further transfer of functions from the UK government to strengthen our position.
"We will consider the committee's recommendations carefully."
On Monday a study for the Campaign for Better Transport concluded train services in Wales were lagging behind others in the UK and could be improved by devolving responsibility.
The report said services were used less and had lower passenger satisfaction.