GVA figures: Welsh economy grows faster than most in UK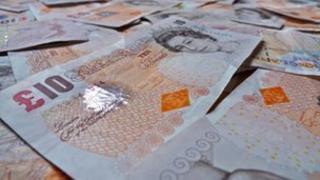 The Welsh economy is growing faster than most other parts of the UK apart from the south east and north west of England, according to official figures.
But Wales remains bottom of the table in how much is produced per head of population, or Gross Value Added (GVA).
The figures show the Gwent valleys had most growth, 5.3%, while the economy contracted by 4% in south west Wales and 2.6% in Monmouthshire and Newport.
Anglesey had the lowest productivity in Wales.
The figures, for last year, were released by the Office for National Statistics (ONS).
The Welsh government said GVA figures tended to be a "rather blunt" measure of economic performance needing careful interpretation, but Wales was clearly "performing strongly" compared to elsewhere in the UK.
The GVA per head increase in Wales was 1.6%. In the south east of England it was 2.5% and in the north west of England it was 1.7%.
Bottom of the table in GVA growth were the East Midlands, where it fell by 0.7%, and Scotland, where GVA per head increased by 0.1%.
UK ministers said their efforts to "rebalance" the economy were "bearing fruit" and measures in last week's Autumn Statement would continue to help Wales and the rest of the UK "on the road to recovery".
Welsh Secretary David Jones said it was "encouraging" that the gap in GVA per head in Wales had narrowed compared to the UK average.
"However, Wales does continue to have the lowest GVA in UK and has held that unenviable position for well over a decade," he said.
"All our efforts - both within the UK and Welsh governments - must be focused on changing that.
"The chancellor's Autumn Statement last week was aimed at young people, families and businesses; and reinforced our priority that this government is focused on helping hardworking people in Wales."
The Welsh government said it was determined to deliver a strong economy.
In a statement it said: "Since devolution, household income in Wales - the measure of how much households have to spend - has risen faster than the UK average; employment in Wales has significantly outperformed the UK; inward investment has increased by 200%; exports have risen by nearly 105% compared to 79% for the UK; average full time earnings in Wales have kept pace with the UK and the latest wealth and assets survey shows that Wales has the fourth highest total median wealth per household in Great Britain."
But a spokesperson added that many people were "yet to feel the benefit of any upturn in our economy" and ministers were committed to doing all they could to support businesses and create a "strong and sustainable economy".
But Plaid Cymru MP Jonathan Edwards accused the Welsh and UK governments of allowing the Welsh economy to "enter a spiral of decline" and offering "no meaningful route to recovery".
"Today's damning GVA figures showing that parts of west London are a staggering 12 times wealthier than parts of Wales prove that the first minister is in complete denial when it comes to not only health and education but the economy too," he said.
"Westminster austerity clearly isn't working for Wales and the Welsh government's complacency is only making things worse."