Welsh political review of 2013: Planes, trains and automobiles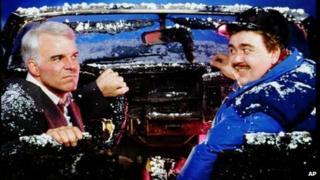 Some of the more memorable moments in Welsh politics in 2013 that come to my mind have involved planes, trains and automobiles.
In April I had the surreal experience of watching Welsh Conservative leader Andrew RT Davies greet bemused rail passengers over the loudspeaker system en route to his party's Welsh spring conference in Swansea.
The aim was to shout a bit louder for UK government rail investment and the fact I am still talking about it eight months later must mean it was a successful stunt to some extent, or perhaps that I am easily distracted.
Planes occupied the mind of First Minister Carwyn Jones when he took the radical step of buying the troubled Cardiff Airport on our behalf, promising it would be managed at "arms length" on a "commercial basis".
Tax powers
Automobiles might in future be able to use an M4 relief road south of Newport, after Chancellor George Osborne said he was working with the Welsh government to get one built.
Where the estimated £1bn will come from was not entirely clear but then David Cameron and Nick Clegg turned up in Cardiff Bay with an offer that might help - borrowing powers.
They said Welsh ministers would even be able to vary income tax, within limits, if they could convince voters in a referendum they could be trusted with such responsibilities.
Not content with waiting for new tax powers, Plaid Cymru leader leader Leanne Wood suggested a levy on sugary drinks, to pay for 1,000 new doctors.
The concept was ridiculed by Labour but Plaid was keen to convey the message it was coming up with fresh ideas, even if some of the new policies proved a little sticky from time to time.
Plaid Cymru won an assembly by-election in Ynys Mon, with former BBC Wales journalist and presenter Rhun ap Iorwerth succeeding former party leader Ieuan Wyn Jones.
Plaid was also the largest party on the island's local council after delayed elections in May, but Labour was able to form a coalition with independents and a Liberal Democrat councillor to run the authority.
Like the other 21 councils across Wales, Anglesey then got down to the business of finding unprecedented budget cuts, more akin to the dramatic scale of cutbacks authorities in England had already experienced.
Cabinet changes
There were a few ministerial arrivals and departures in a year that could be described as a long-haul for Welsh ministers.
Education Minister Leighton Andrews resigned after being photographed holding a sign saying "Save Pentre primary" - a school facing closure under his own surplus places policy.
His replacement Huw Lewis was left defending the Welsh government's handling of education after Welsh schools performed badly in international tests.
Mark Drakeford took over at health, continuing the sensitive task of re-organising hospital services and facing criticism over NHS waiting times.
Assembly members also backed a big change to organ donation in Wales which will bring in an opt-out system in two years time - the first in the UK.
Whilst by no means universally popular, it was hailed as a move that would make a significant difference to the number of donors and save many lives.
In 2014 we can probably look forward to plenty more more rows over NHS reorganisation and waiting times along with school standards.
There will be a referendum on Scottish independence with potentially profound implications for Wales - oh, and a European election.
Hold on tight.