Khat ban will cause "endless problems", MP Paul Flynn warns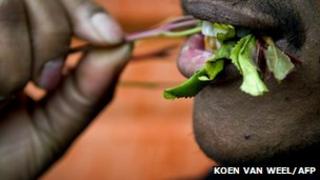 Banning the stimulant khat will "drive a wedge" between police and Yemeni and Somali communities, an MP has warned.
The Home Affairs Committee has urged ministers to reverse plans to re-grade the plant as a class-C drug.
Committee member Newport West MP Paul Flynn predicted a ban would mean gangs dividing Somali and Yemeni areas into territories and "endless problems".
The Home Office said the move would protect the public from risks associated with misuse of khat.
Home Secretary Theresa May announced her decision to ban khat in July, against the advice of the government's own Advisory Council on the Misuse of Drugs (ACMD).
In January, the ACMD said khat should remain a legal substance, adding there was "insufficient evidence" it caused health problems.
But Mrs May said the risks posed could have been underestimated.
Khat, made from leaves and shoots of a shrub cultivated in the Horn of Africa and the Arabian Peninsula and containing the stimulant cathinone, is to be treated under the law like anabolic steroids and ketamine.
It is traditionally used by members of the Somali, Yemeni and Ethiopian communities and was described by the ACMD as having a "mild stimulant effect much less potent than stimulant drugs, such as amphetamine".
The ACMD found "no evidence" khat was directly linked with serious or organised crime.
Mr Flynn told BBC Radio Wales: "The committee believe, with the experts and the last 20 home secretaries, that a ban would do a great deal more harm than good.
"It's not a very harmful drug, and there's no evidence that it's addictive or it's going to cause people health problems.
"Our view is that by prohibiting the drug we're going to drive a wedge between the police and the already marginalised Yemeni and Somali communities."
Criminal 'hub'
Mr Flynn warned that a ban would drive up its price and "a very profitable" criminal trade would develop.
"We're going to see gangs operating, dividing the Somali and Yemeni communities into territories [and] all kinds of problems that flow from this," he said.
Nasir Adam, a development officer with Cardiff Community Housing Association based in Cardiff Bay, backs the ban but called for it to be implemented in a sensitive way that offered support to communities.
"There's got to be some sort of supporting mechanism - you can't just ban a substance just like that," he said.
"There are a lot of addictions amongst our youngsters who use this as more than a recreational thing, as our fathers and grandfathers used to use it.
"It's a bit like alcohol misuse, actually, where a lot of young people, especially in the current climate, are going through that."
Mr Adam said more job placements for young people should be a major priority for government and agencies, who should also consult communities about the extent of khat use.
In a statement the Home Office said: "Banning khat in the UK will protect the public from risks associated with its misuse.
"It will also prevent Britain from becoming a single, regional hub for criminals trying to make a profit as countries across Europe have implemented the same ban."
Ministers have said the ban will be be brought in at the "earliest possible opportunity".