NUT Cymru 'not overly panicked' over pupils' struggles with maths test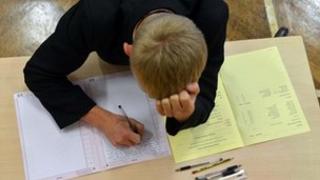 A teachers' union official in Wales claims he is not "overly panicked" at a highly critical report which found many children do not know how to sit a maths test.
The report, for the Welsh government ahead of new numerical tests, found pupils copying or leaving answers blank.
Owen Hathway, of NUT Wales, said it was "not the be all and end all".
The education minister is responding by boosting funding for the tests.
From May next year, children will sit numerical reasoning tests in an effort to improve numeracy skills.
But the results of pre-testing revealed learners did not understand basic concepts or check their work, they copied from each other, gave ridiculous answers or left most questions blank.
The report was drawn up by Acumina, the company which will be running the tests.
Speaking on BBC Radio Wales, Mr Hathway, Wales policy officer for NUT Cymru, said: "We have to obviously look at the recommendations in detail over time, particularly what it says about numeracy skills and the application of those skills.
"I have to say I'm not overly panicked that children don't know how to sit tests. To me, that's not the be all and end all.
"If we create a generation of pupils who are fantastic at being tested it doesn't necessarily mean they are fantastic at being educated."
The Organisation for Economic Co-operation and Development's programme for international student assessment (Pisa) results come round every three years and this time the focus will be on mathematics.
Wales lagged behind most other countries, coming 40th in maths in 2009.
Finland has consistently performed well and BBC Radio Wales has sent Chris Parry, head of maths at Ysgol Friars in Bangor, to Hameenkylan school in Vantaa, Helsinki, to learn from the Scandinavian country's success.
Mr Hathway said the Finnish education system did not test children.
"Now I'm not naive enough to think we can just transplant what Finland do to Wales because we've got different culture, different society but it doesn't mean we should ignore the fact we are creating a regime of children who are just being tested and tested and tested in Wales, which is completely contradictory to the international success that nations such as Finland are having," he added.
The report, which examined the results from sample tests taken in May 2013 by more than 200 children in each school year between 2 and 9.
Average scores were low for all age groups, according to the report, ranging from 19% to 29%.
'Cracks'
Education Minister Mr Lewis said: "Findings from the numerical reasoning pre-test have revealed that the scores for the test items were lower than might otherwise have been expected for the relevant age groups, and that a number of factors appeared to have contributed to these."
He said in response he would provide a "comprehensive package of support" through an increase in funding of £800,000 to the National Support Programme for literacy and numeracy.
Plaid Cymru education spokesman Simon Thomas said: "It's possible we could teach our children to sit tests better but that would be just papering over the cracks because eventually the more fundamental, structural failures in the system would show through and fail.
"I think we've all sat exams where we knew how to prepare for exams, the likely questions to be asked and so forth.
"If you're going to put somebody in a completely new situation, which is what real life does and what the workplace demands, and say apply now the things you've learned in the class to this new set of circumstances, that's the kind of flexibility, reasoning and logic that we want Welsh pupils to have.
"It would be enough simply to improve the way testing is done in Wales."
National testing was abolished in Wales in 2004, but is being brought back by the Welsh government in an attempt to raise standards in schools amid concern about poor performance.