'Substantial' shale gas in Wales, firms say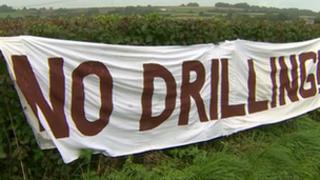 Companies keen on extracting shale gas have told MPs there are "substantial" opportunities in north and south Wales.
Last month, two south Wales councils backed exploratory gas drilling bids, prompting opponents' fears of potential future extraction, known as fracking.
The firms were making their case to the Welsh Affairs Select Committee's inquiry into energy generation.
Fracking opponents have held protests across the UK, including outside the Senedd in Cardiff Bay.
The technique, also called hydraulic fracturing, involves injecting water and chemicals into shale rock at high pressure.
The rocks shatter in the process, releasing trapped natural gas.
Vale of Glamorgan and Rhondda Cynon Taf councils have approved exploratory borehole drilling at four separate sites by Coastal Oil and Gas - three in the Vale of Glamorgan, and another in Llantrisant.
The MPs heard evidence from Gerwyn Williams, chairman of UK Onshore Gas Limited, whose subsidiary company Coastal Oil and Gas hold licences to explore 500,000 acres across south Wales and some areas in Somerset and Kent.
Rather than extracting, his company is currently focusing on exploring for shale gas and coal bed methane, and Mr Williams said the results of initial tests were encouraging.
"There is an enormous amount of gas in south Wales and I've spent my life in the mining industry - 22 years for British Coal and then in private mines, and they've virtually all gone," he said.
"But the energy source is still there and in my view we should be exploiting it."
'Foremost geologists'
Matt Lawton from Cuadrilla told MPs that his company was probably the biggest shale gas exploration company in Europe, with licences to explore land in the north of England and southern England.
The company attracted headlines in the summer when protestors targeted a test oil drilling site in West Sussex.
Mr Lawton said that his firm did not currently hold any licences to explore for gas in Wales, but that could change in the future.
"We are not currently licence holders in Wales, but it's possible that we might take an interest in future licensing rounds," he said.
"Certainly our geologists - who are I guess some of the foremost geologists in the private sector in Europe - concur with Gerwyn's view that there is substantial opportunity in north and south Wales potentially for shale."
Asked if large scale shale gas exploitation would bring down household gas bills, Mr Lawton said that recent figures suggested prices could fall by up to 11%.
But he acknowledged that more exploration work to establish how much gas was available in the UK needed to be done.