Huw Lewis defends higher education and student finance review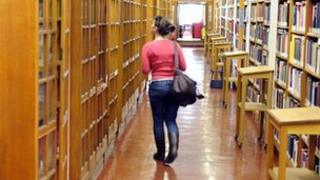 A review into higher education and student finance is not an admission that critics of the existing policy are right, the education minister has said.
Huw Lewis announced the cross-party review on Monday saying he wanted a "robust" funding regime.
Opposition parties have welcomed it, with the Welsh Conservatives saying the current policy was "unaffordable".
For each Welsh student who goes to a university across the border the Welsh government pays around £4,500.
Welsh universities claim money is draining from the system. They say it could be used in the higher education (HE) sector within Wales instead.
About £33m is leaving Wales with this year's 7,370 first-year students.
Speaking on BBC Radio Wales, Mr Lewis denied the review was an admission that the Welsh government's critics of its HE policy were right.
"We are committed to the current popular, affordable and sustainable means of student support right through until 2016 and that will happen at least until 2016," he said.
"Higher education is facing a world climate of rapid change. We all know that students numbers continue to grow. I'm also very sensitive to the widening access agenda around higher education.
"I think we have to pay attention to the fact that we need to attract people from lower income bands that are currently not accessing higher education, even though they may have the ability and the talent to take best advantage of it.
"Certainly, we need a system that is both affordable in the long term, stable in the long term and does the best by Welsh students no matter where they come from and what kind of family background they might have."
It is anticipated the review will report in autumn 2016 but Mr Lewis denied he was delaying the issue so he did not have to tell the electorate what the policy would be at the 2016 assembly elections.
"Reviews advise governments, they don't direct them," the minister said.
"The next assembly election is a little way off yet.
"Between now and then I'd like to see us have a sensible, all-party, all opinion discussion here in Wales about how we can assist our young people and how we can make sure we have a good stable future for higher education."
'Genuinely world class'
The Conservatives said they had long claimed that the tuition fees policy should be taken back to the drawing board.
Welsh Conservative leader Andrew RT Davies told BBC Radio Wales: "I welcome the review but what I would prefer the minister to do is be clearer in what he and his government wish to do for the remainder of this assembly term.
"It is an unaffordable policy, it isn't reaching out to some of the less disadvantaged people in our society by creating better access to universities.
"Ultimately quite a lot of this money, £50m, is going out of Wales to HE facilities across the rest of the UK."
Plaid Cymru education spokesperson Simon Thomas AM said the cross-party examination of the funding system was a "positive move" to address "shortcomings".
He said he would support the work of the review panel if it was genuinely cross-party and looked forward to working with others for a "progressive, sustainable way forward".
Mr Thomas added: "Our universities are the cornerstone of Welsh cultural life and economic prosperity, so it's important that we do everything we can to protect them and ensure their economic future whilst delivering opportunities and social justice to our young people."
But the Liberal Democrats described the decision to publish the review after the next assembly election as "both cynical and weak".
Lib Dem education spokesman Aled Roberts said: "Having the review report back in autumn 2016 means that the people of Wales will have no idea of Welsh Labour's higher education policy prior to the assembly elections."
Welsh students pay about £3,500 in tuition fees with the Welsh government paying the rest through a grant, wherever they choose to study in the UK.
On average, English universities charge around £8,000 a year in fees.
Earlier this year, universities in Wales told BBC Wales they were not on an even playing field with institutions in other parts of the UK.
This year's first-year students from Wales who study in other parts of the UK could take more than £33m in Welsh government support with them. Including last year's students, the total figure is more than £50m.
In a speech at Cardiff University on Monday evening, Mr Lewis said the review also aimed to widen access to universities to students who would not normally see themselves as "university material".
Prof Sir Ian Diamond, vice chancellor of Aberdeen University, will lead the panel when it starts its review early next year. It will report to the Welsh government in 2016.