'No' to devolved policing says Dyfed-Powys PCC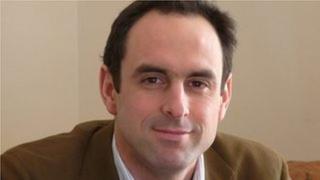 The Dyfed-Powys police and crime commissioner says he rejects devolving police powers to the Welsh assembly.
Christopher Salmon has told BBC Wales that it would mean added cost and complication in the police service.
The Dyfed-Powys PCC differs from his south Wales counterpart, Alun Michael, who has previously backed calls from the Welsh government to hand policing powers over to the assembly.
The latest comments come a year after the commissioners were first elected.
But Mr Salmon told the The Politics Show Wales that as far as he was concerned the creation of police and crime commissioners meant powers have already been devolved.
"You have all the decisions relating to policing being made by politicians elected by people in Wales for people in Wales," he said.
He argued that he did not see any benefits in passing policing policy to Cardiff Bay.
"I don't see any particular advantage in terms of crime fighting - and that's what we have to be about - in fracturing the policing service down the Welsh border and the criminal justice system likewise," he insisted.
But Mr Salmon's views were challenged by the Plaid Cymru peer and assembly member, Lord Elis-Thomas.
Local responses
He told the BBC programme that Wales should not be prevented from having its own organised public services.
"I would invite the police commissioners to start thinking about that," he stated.
"I have to tell them that the administration of justice will be devolved before 2020."
But the Dyfed-Powys commissioner rejected that viewpoint.
"I think the important thing that police and crime commissioners have allowed to happen is local responses to local problems," said Mr Salmon.
"I am answerable to my voters in Dyfed-Powys and not jumping to targets set anywhere centrally.
"That's the value of localism and the great power of this post and I wouldn't favour centralising things in Wales at all".