M4 relief road: 'Three years of argument' warning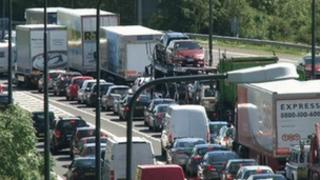 A new M4 motorway around Newport is not likely to be built on time and to budget, a transport expert has told a committee of assembly members.
Prof Stuart Cole said environmental objections would mean at least "three years of argument" before construction of the £1bn road begins.
He told the environment committee costs could rise "substantially" as a result.
UK ministers announced last week Welsh ministers could borrow the money needed to fund the relief road.
The committee is considering plans for the new stretch of motorway south of Newport, between Magor and Castleton.
Prof Cole from the University of South Wales told AMs: "We're not likely to see this new M4 by 2020....construction costs are rising by about 10% a year; we could see all of these figures being substantially more if there is a delay in building any of the schemes, so the total cost of building the motorway will undoubtedly increase as we go along."
He is proposing an alternative scheme to deal with congestion around Newport.
Prof Cole questioned whether Welsh government projections of rising traffic on the existing M4 were correct, saying traffic growth had "plateaued out".
The Federation of Small Businesses (FSB) and a number on environmental groups have already said they oppose the idea of a new motorway.
The Welsh government has previously said that cutting motorway congestion in the area is essential for the Welsh economy.
But a spokesperson said it was currently conducting a public consultation on the draft plan, adding that "it would be inappropriate to comment further at this stage".
The 12-week consultation period is due to end before Christmas.