MP Alun Cairns bids to curb nuisance phone calls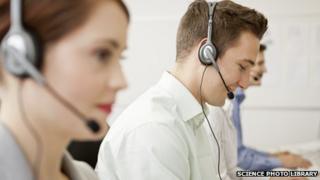 A bid for a new law to crack down on companies who make nuisance telephone cold-calls has been made.
The Vale of Glamorgan MP, Alun Cairns, tabled a backbencher's bill in the House of Commons on the issue.
The new law would force cold-calling companies to reveal their phone number to householders. This would enable people to complain effectively about the caller if they wanted to.
Mr Cairns is now hoping his 10-minute rule bill will go to the next stage.
It would need the full support of the coalition government to have any chance of being given enough parliamentary time to become law.
However, Mr Cairns said he had now been told by Minister for Culture, Communications and Creative Industries Ed Vaizey that he was hoping to publish a strategy to get to grips with the problem by the end of the month.
"It is almost impossible to complain about a nuisance call without knowing the telephone number of the caller," said Conservative MP Mr Cairns.
"This Bill will make it easier to complain and will empower constituents to choose whether they want to answer the phone or not."
His attempt to bring in a new law follows a report by MPs on nuisance calls.
Mr Cairns said his bill would also tackle the issue of cold-calling companies withholding their number, while at the same time protecting organisations that need to remain anonymous, such as the police or domestic violence charities.
Protecting charities
"When caller ID was first introduced all numbers were displayed. Now, most organisations withhold it - including Parliament," said Mr Cairns.
"It is right and fair that charities such as Women's Aid or the police are able to withhold their numbers, but that should be the exception rather than the rule."
Currently, individuals can register with the Telephone Preference Service to block nuisance marketing calls.
But the consumers' association Which? has said the system is not working as well as it should, and the communications watchdog, Ofcom and the Information Commissioner's Office are assessing the TPS service.
Mr Cairns added that his bill would "provide more evidence to the regulators to fine those companies that are breaching the Telephone Preference Service code".