Analysis: Tax powers for Wales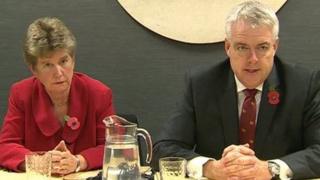 The Welsh government has got most of what it wanted - the big prize is early access to borrowing powers, initially using defunct powers inherited from the Welsh Development Agency, but then full borrowing proportionate to those held by Scotland.
Scotland got £2.2bn in borrowing headroom under the 2012 Act - an equal proportion for Wales would be around £1.1bn - that's the basis on which the Welsh government is working.
It also understands that there will be no obligation to take income tax powers to access this full amount - the sums generated by Stamp Duty and Landfill Tax will be sufficient as income streams.
It is disappointed not to get long-haul Air Passenger Duty - but it was always a bit of a flier (if you'll pardon the pun) as the tax with the greatest potential to put airports like Bristol and Manchester at a competitive disadvantage. The Aggregates Levy probably will be devolved but further work needs to be done on state aid issues.
First Minister Carwyn Jones was at pains to stress in his press conference that the M4 relief road is only "an option" for the use of borrowing powers, also citing improvements to the A55 and other non-transport infrastructure projects - for example, he said building a hospital the size of Cardiff's University Hospital of Wales now would be impossible without borrowing powers - basically it would mean going down the PFI route.
M4 timescale
I think the Welsh government has realised that in seeking to make the case for borrowing powers they may have over-emphasised the M4 relief road aspect and are now seeking to demonstrate they would have more Wales-wide benefits.
Today's announcement doesn't necessarily change the timescale for the M4 relief road - it means the current consultation can continue but with certainty that there will be funds to begin construction when that becomes possible.
In terms of income tax, Mr Cameron and Mr Clegg were very clear that they will legislate during this Parliament to give the Welsh government and the assembly the powers to trigger a referendum on whether Wales should have income tax varying powers.
But they said the timing of that referendum is solely a matter for Wales - they would not seek to influence it in any way.
The first minister's position on income tax devolution is that it would "lock in" what he considers the underfunding of Wales under the current Barnett formula.
He says that he could not "hand on heart" recommend to the Welsh people that income tax should be devolved as he could not then continue to argue with the UK government that the block grant should be increased to meet Wales' needs.
Scottish independence
I put it to him that if agreement was reached on "fair funding" then did he agree that in principle that Wales should have some income tax varying powers? He said he could not answer hypothetical questions, but that it would be up to each of the parties contesting the next assembly election to put their proposals in their manifestos in 2016.
If Labour were to rule out income tax devolution for the next assembly (2016-2021) then the only thing that could change that is if holding a referendum in that period became a "red line" in coalition negotiations with Plaid Cymru and/or the Liberal Democrats, in the event that Labour fails to win an overall majority. The Welsh Conservatives are also in favour of income tax powers for Wales.
The backdrop to all of this is the looming Scottish independence referendum in 2014. Carwyn Jones made it clear to David Cameron at a meeting in Downing Street last month that although he was staunch supporter of the Union, he could not in all conscience travel to Scotland and campaign without being clear that the UK government had failed to deliver the extra powers that Wales wanted - something which would have resonance for Scottish voters trying to decide whether Scotland would be better or worse off outside the UK.
Mr Jones will now travel to Scotland at an early opportunity to give a speech in strong support of the Union, using today's Silk announcement as an argument for Scottish voters to have confidence that they can gain more powers while voting No and remaining within the UK.
All of today's announcements (apart from the early borrowing powers) will now be put into a new Government of Wales Act to be passed through Parliament before the 2015 election with the intention to come into force for the new assembly elected in May 2016.