Minister Alun Davies gave 'evasive' answers, committee says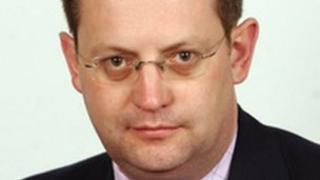 A Welsh government minister has been criticised for giving "evasive" answers to an assembly committee.
The assembly's environment committee said Natural Resources Minister Alun Davies gave them contradictory information about his portfolio.
Members condemned his department for financial management and planning failures, including "basic errors" in its draft budget.
The Welsh government said issues raised were "flawed and inaccurate".
In a letter to the Finance Committee about the Natural Resources department's budget, the AMs said: "We are disappointed with the timeliness of information provided by the minister, and the oral evidence session, where a number of questions were evaded or contradictory information provided.
"We believe that this is an indicator of problems at the heart of financial management and planning of this department and we will continue to keep a very close eye on these issues both in-year and at future budget rounds.
"We believe the department's approach to financial management hinders general transparency. We are therefore unable to assess whether the budget is appropriately prioritised and is providing value for money."
'Lack of competence'
Mr Davies was criticised after £342m of farm subsidy payments were left out of the government's supplementary budget earlier this year due to what he called an "administrative error".
Committee members said that while the minister said there would be no impact on farmers, "there is a discrepancy between officials and the minister about whether or not this shortfall will need to be covered from other areas within the Welsh Government budget".
The Liberal Democrat environment spokesman, William Powell, said that Mr Davies' performance before the Environment Committee was "embarrassing" and showed a "lack of competence".
"The Minister's budget included a number of basic errors, such as referring to schemes and policy areas that have ceased to exist," said Mr Powell.
The Welsh government responded strongly to the critical letter.
A spokesperson said: "The majority of the issues raised are simply flawed and inaccurate and we do not accept them.
"The content and tone of the letter are also wholly misleading.
"The Minister for Natural Resources and Food will be writing to the Chair of the Environment Committee shortly to address the issues raised."