Welsh Conservative leader calls for shorter assembly holidays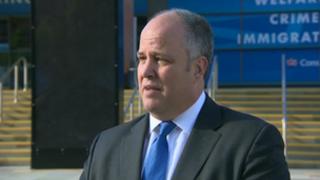 Assembly members should have shorter holidays and hold an extra meeting each week, the leader of the Welsh Conservatives says.
Andrew RT Davies told BBC Wales there should be a "root and branch review" of the way the assembly operates.
AMs currently hold full sessions - to question ministers and pass legislation - on a Tuesday and Wednesday afternoon.
Mr Davies said an extra session could be held on Thursday mornings but the Wales Governance Centre disagrees.
A recent report said proper scrutiny of the Welsh government could be achieved by increasing the number of AMs from 60 to 100.
'Right balance'
But Mr Davies said the idea of increasing the number of AMs from the current total would be "jumping the gun".
He said: "Now more than ever we need a root and branch review of procedure within the Welsh parliament.
"Suggestions of an increase in AM numbers are jumping the gun.
"There is far more that can be done with the current number of members, and we need to get that right first."
The assembly took a 10-week recess this summer and after sitting for five weeks, next week is a one-week half-term recess.
Mr Davies said: "The time members spend within their constituencies and regions is extremely important and paramount to our work, while many members must also travel long distances to and from parliament.
"Finding the right balance then is clearly not easy but it must be done for the benefit of Wales.
'High quality democracy'
"All would agree that engagement with Wales' democratic institution is worryingly low, and I hope AMs of all parties will come together to consider how we can burst the Cardiff Bay bubble."
But Dr Rebecca Rumbul, manager of the Wales Governance Centre at Cardiff University, disagrees with Mr Davies' idea.
"There are not enough AMs to properly hold the government to account currently and I don't believe that simply shortening recess or making committee members sit in yet another meeting will be a high quality solution to that problem," she said.
"Most AMs you speak to will work a 60 hour week. When they're on recess, they're not on a nine-week Caribbean cruise, they are in their constituencies working very hard to the people that have voted them in.
"I don't think increasing the hours will produce the kind of high quality democracy what we want.
"Actually what we want to see is a plurality of voices and an increase in experience in the assembly and you can only capture that by increasing the number of AMs."