'Health tourism' visa levy plan queried by Carwyn Jones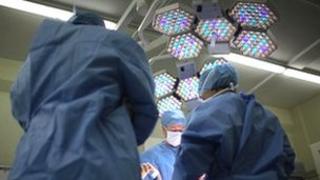 A plan to impose a levy on UK visitors' visas to pay for health services has not been properly thought through, First Minister Carwyn Jones has said.
The UK government hopes to recover around a quarter of the £2bn spent on healthcare for overseas visitors and deter so-called "health tourism".
Mr Jones told AMs there was no plans to redistribute any of the funds raised to Wales, Scotland and Northern Ireland.
He said UK ministers must "think again" as health was a devolved service.
The UK government believes savings would come from the levy on the visas of non-European temporary residents, by deterring "health tourism" and by recovering money owed by other countries for NHS treatment their nationals had received.
The proposals followed the publication of an independent report commissioned by the Department of Health in London.
'Astounded'
Speaking during First Minister's Questions in the Senedd, Mr Jones said he had a "curious" conversation with UK government officials at last week's Joint Ministerial Committee (JMC) in Downing Street, a meeting which involves devolved administrations and UK ministers.
He said officials had confirmed that the levy was being imposed to pay for health services but they had told him Wales, Scotland and Northern Ireland would not get the usual share they receive for areas of government that were devolved.
"So it seems this money is going to be collected and used entirely for the health service in England," he said.
"It was clear to me they hadn't thought this through in any way, certainly the first minister of Northern Ireland was equally as astounded as I was by the comment."
"We in Wales will find ourselves in the situation where we will not receive a share of the money that is specifically collected for the purpose of the delivery of a devolved service.
"They need to think again," Mr Jones added.