Conservatives would cut 10,000 teachers, Labour claims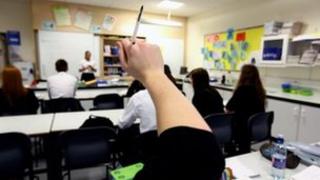 Welsh Conservative plans to cut education spending in Wales would lead to nearly 10,000 teachers losing their jobs, Labour has claimed.
Labour also warned such cuts would mean class sizes of 50 or 60 pupils.
Conservatives said they would keep 2011 assembly election spending priorities, including protecting the health budget.
Denying they would cut teacher numbers, the Conservatives said the Welsh Labour government had got education "catastrophically wrong" for a decade.
Before the 2011 assembly election, the Welsh Conservatives published a shadow budget laying out what their spending priorities were they to win power.
The party promised to ring-fence health funding, which would have meant bigger cuts in other departments, including a 12% reduction in the education budget.
Welsh Conservative leader Andrew RT Davies AM has said recently the party would maintain those spending commitments.
Quoting independent analysis from the assembly members Research Service, Labour said the reduction in education spending was the equivalent of 9,757 full-time teachers losing their jobs across Wales.
Labour AM Keith Davies warned job cuts on that scale would be "catastrophic".
"Either the Welsh Conservatives are playing politics, as they know full well there is more chance of Andrew RT Davies winning Mastermind than becoming first minister of Wales, or they are deadly serious about savaging teaching staff numbers so ruthlessly that we'd face classes of 50 or 60 pupils.
"We are all fully aware of the grim financial situation that frontline services face in Wales because of David Cameron's vicious austerity programme, but to concentrate cuts on education on such a scale would bring the school system to its knees."
'Red tape'
Conservatives said their policy of funding schools directly, rather than via local education authorities, would save £100m and they attacked Labour's education record.
Mr Davies said: "Far from cutting the number of teachers in Wales - Welsh Conservatives would empower them, giving staff and parents far more say about what happens in classrooms.
"Direct funding of schools would get rid of the unwanted red tape and bureaucracy that hampers our teaching staff - while freeing up a £100 million of additional investment for schools.
"We will take no lectures from a hypocritical Labour party that has got it catastrophically wrong on education for the last ten years," he added.