Will cutting the number of councils in Wales save money?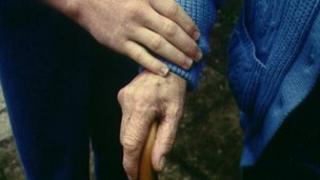 Councils the length and breadth of Wales are now trying to work out the best ways of dealing with unprecedented cuts.
The option of reducing the number of local authorities, perhaps drastically, seems an obvious one.
First Minister Carwyn Jones has again stated, in interviews with the BBC and the Western Mail, that 22 councils is too much, and he looks forward to seeing the recommendations of a commission considering the matter, which is due to report at the end of the year.
Earlier this week, senior Cardiff councillor Russell Goodway suggested some councils could go bust as the impact of budget cuts mount, raising the prospect of the numbers falling regardless of any deliberate reorganisation.
While Wales might not have been here before in terms of the scale of the financial cutbacks, the business of restructuring local councils is quite a well-trodden path.
Cutting bureaucracy
The current 22 councils were created in the mid-1990s.
They replaced a two-tier structure made up of district and county councils, which had been established by another local government reorganisation in 1974.
Two decades ago it was argued single, unitary authorities were more efficient - cutting out a layer of bureaucracy and making it simpler for people to understand who was providing their public services.
No longer did one council empty your bins while another local authority educated your child.
The argument was that if you had a complaint you knew where to go.
Now it is said that many of these councils are just too small to deal with areas such as education and social services, although it isn't just the smaller authorities that have been criticised for the quality of their services in these two crucial areas.
Prof Steve Martin and the team at Cardiff Business School's Centre for Local and Regional Government Research know a thing or two about these matters, having looked at evidence from council reorganisations around the globe.
"Usually, when people undertake them, they hope for and anticipate quite significant cost savings," he said.
"Studies in Australia, Canada and England show that whilst you can get cost savings, particularly in the longer term, they've never been on the scale that people have hoped for.
"So one lesson, not to be too gloomy about this, is not to over expect in terms of cost savings."
'Performance dip'
Prof Martin says it takes around five years for reorganisations to bed down.
Restructuring which has taken place in England was slightly different from what might happen in Wales, involving two-tier authorities becoming unitary councils, but he says there was often evidence of a "performance dip" in the short term.
So, while the savings can take time to appear, the hiatus of reorganising a council, turning it into a new organisation, people applying for their own jobs and so on tends to affect authorities' ability to run services as well as they might.
"You overlay on that the very difficult financial environment that we're in at the moment and all of that says, therefore, that this is not something to be undertaken lightly."
"Having said all of that, it's pretty clear that there are some authorities in Wales that have struggled in recent years, and the number of interventions that the government has initiated sort of bears testimony to that, and so does some of the performance data.
"And therefore it would be wrong to say that we can be confident that the current 22 are performing as well as we might want them to".
'Compelling'
Yet Prof Martin says it isn't clear whether big, small or medium is the right size for a local authority.
Some sizes are better for some services but not for others - one of the reasons why we used to have two different sizes of councils, in addition to community councils.
"Do you want local government to continue to be responsible for education and social care - because if you don't then that drives you towards a pretty large number of small authorities - if you do there is quite a compelling case for a smaller number of larger authorities?" he said.
Prof Martin reckons Wales is roughly the size of two or three large English county councils, in population terms, so does it makes sense for us to have 22 of them?
"There are quite a lot of countries where governance is working quite well - some of the Scandinavian countries would have far larger numbers of councils which are smaller," he said.
"But they are not responsible for education and social services - education and social services would be run by a higher tier of government - either a state-level government or the national government or county councils."
Debating whether our local government structure is right or wrong has long been a past time for people like me who probably should get out more.
Whatever is decided in Wales, the hope is that we won't be returning to these arguments soon after any changes are finally made.
But it would take a braver man than me to bet on that being the case.