Rebates will 'swallow up' tax increases, AMs are told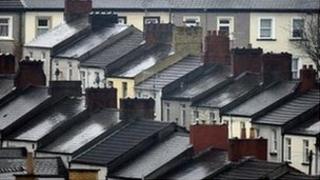 Up to a third of money from council tax increases next year will be swallowed up by rebates, the Welsh Local Government Association (WLGA) has said.
The Welsh government has not increased council tax benefit funding next year.
It means councils will pay the increased cost of benefit for all recipients in their area as bills rise.
UK ministers devolved council tax benefit to Wales last year with a 10% funding gap, and it has been the centre of political controversy ever since.
WLGA resources director Jon Rae told the assembly's finance committee: "With the new council tax reduction scheme, local authorities essentially have to swallow their own smoke on any council tax increases.
"So there's a brake on the ability to raise additional income from council tax of about a quarter to a third of the increase which will have to go on funding the council tax reduction scheme."
Torfaen council cabinet member Anthony Hunt said: "It used to be that we could depend on a percentage raise in council tax raising us about £300,000 in Torfaen.
"Now it's nearer £200,000 because of the impact of the council tax reduction scheme.
"So if you compare that figure to the savings we need to make - it's very small."
The Welsh government announced earlier in the week that it would continue to make up a shortfall in council tax benefit funding of around £22m next year.
But that does not take into account the cost to the scheme of funding any increases in council tax next year.
On Wednesday Local Government Minister Lesley Griffiths said she expected council tax bills to go up next year but she refused to speculate how much.
The WLGA has been using an estimate of a 3.5% rise in its financial projections which would add around £40 to the average band D bill.
Early modelling as a result of the draft budget indicated a shortfall of between £400m and £440m for local government over the next two years, the finance committee was told.
'Pot of gold'
Members were told councils had begun drawing down reserves last year for the first time since 1999.
Mr Rae said about £30m had been taken out, but warned that use of reserves to plug funding gaps was not a realistic option as the current total reserves held by all councils in Wales amounted to about ten days' expenditure.
"Sometimes many out there think that underneath county hall there is a great big pot of gold, and there isn't," he said.
Witnesses from local government said they had not been given sufficient warning of the scale of next year's cuts.
They said that as late as June this year they were still working on the basis of an average increase of 0.5% for councils next year.
Mr Rae said they had then been told there were "English-style cuts" on the way but said they needed firmer figures for planning purposes.
The draft budget will actually result in a cut of 3.5% to council budgets for 2014/15.