Carwyn Jones and David Jones clash over borrowing powers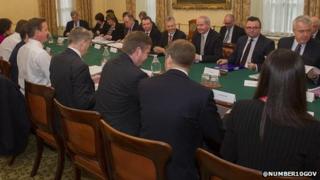 The first minister has clashed with the Welsh secretary over delays in giving the Welsh government the power to borrow money.
Carwyn Jones also accused the prime minister of "holding Wales back" over the issue, which was raised at a meeting at Downing Street.
UK ministers have agreed in principle to give Wales borrowing powers.
But the deal is tied up in a delayed package that would also see the Welsh government get control of some taxes.
David Cameron has said he is attracted by the idea of the Welsh government raising some of its budget.
First Minister Carwyn Jones said: "The message I put to the prime minister was 'come on, stop holding Wales back. Let's get some sense here over the recommendations that have been made by the UK government's own commission to give Wales a financial package to take Wales forward in the future'."
On Sunday Mr Jones warned it would be a "disaster" for Wales if borrowing powers recommended by the Silk Commission were not devolved.
He told BBC Radio Wales's Sunday Supplement that without more powers to borrow money, planned £1bn M4 improvements "will not happen".
'Completely obsessed'
During Wednesday's meeting, Secretary of State for Wales David Jones said it was the Welsh government's responsibility to maintain the M4 and had been since devolution.
"It is rather rich for the Welsh government not to upgrade the M4 to a proper standard and somehow blame the UK government for that when it was never the UK government's responsibility," he said.
The first minister claimed that if the package - a response to last year's report by the Silk commission which is examining the future of devolution - was not agreed by next month, a law to transfer the powers would not be delivered by the next general election.
But the Welsh secretary said it was important to get the package right, and UK ministers were still considering submissions to a consultation on the devolution of stamp duty land tax.
The pair met at a meeting of the Joint Ministerial Committee, made up of the devolved administrations and the UK government.
Last month, Mr Cameron denied blocking further devolution and said he was attracted by the idea of the Welsh government being able to raise some of its budget.
But he had said the "bubble" in Cardiff was "completely obsessed" about powers when the real issue was economic recovery.
Almost a year ago, the commission set up by the UK government and chaired by former assembly clerk Paul Silk said ministers in Cardiff should be allowed to vary some tax rates and some borrowing powers.
A decision had been initially expected in the spring.
The proposals to ease motorway congestion around Newport, with options of routes swinging south of the existing M4, are currently out to consultation.
Chancellor George Osborne has called it one of the most important road schemes in the UK.