Huw Lewis: Breaking link between poverty and academic achievement is priority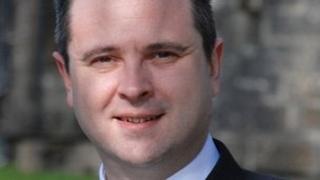 Tackling the link between poverty and poor academic achievement must become one of the top Welsh government priorities, the education minister says.
Huw Lewis said the effects of poverty were apparent before children had even started school.
The comments came in his first major speech since taking the post in June.
He said issues with literacy and numeracy remained but plans were in place for improvement.
However, he criticised the "chronic inconsistency in the delivery of our key educational programmes".
The former education minister Leighton Andrews led the drive to improve the core skills in schools, bringing in the Literacy and Numeracy Framework.
He also introduced national reading and numeracy tests, which started in May, and improving literacy and numeracy was made part of all subjects - not just English, Welsh and maths - from ages five to 14.
Now, Mr Lewis has said the educational focus should shift.
Speaking at the University of South Wales' Atrium campus in Cardiff on Tuesday evening, he said: "From tonight, cutting the link between deprivation and attainment becomes our first priority, alongside literacy and numeracy, and equal partner."
He went on: "I don't pretend for a moment that the core issues of literacy and numeracy are solved but I am satisfied that through the Literacy and Numeracy Framework, through tests and greater accountability, we do at least have a plan.
"I'm not confident any of us here tonight could say the same about tackling deprivation. That is something I intend to put right."
He said that there were plenty of plans in place in Wales to improve schools and the outcomes for pupils but said they were often poorly implemented.
'Unforgiveable'
"Where we might expect an "A" for theory with these policies, I'm afraid that too often we are scraping pass marks when it comes to the practical," he said.
"We're suffering from chronic inconsistency in the delivery of our key educational programmes - and in a country as small as ours, this is unforgivable.
"In a country as small as ours, this should be readily fixable."
Robin Hughes, secretary of the Association of School and College Leaders (ASCL), who was at the Atrium to hear the minister speak, said that while it was Mr Lewis's first major speech in his new role he had already taken action to show he was a "deal maker".
"The two bits of action that are most revealing about our new minister is the securing of new money for the pupil deprivation fund, which is going to increase," he told BBC Radio Wales' Good Morning Wales.
"That's new money to focus on the priority that he shared with us last night.
"The second thing is the ground-breaking breakthrough deal that he signed with the local authorities on securing the money as well as the function of the regional consortia [which oversee the running of education across a number of counties].
"Part of the reason why there's been a faltering delivery in the system is that the system hasn't settled.
"We hope the system settles now.
"I think that breakthrough deal shows the minister is a deal maker."
Concern over standards
Literacy and numeracy levels in Wales have been a concern in recent years.
Wales lagged behind England, Scotland and Northern Ireland in reading, maths and science in the last international tests for 15 year olds run by the Programme for International Student Assessment (Pisa) in 2010.
Out of 67 countries taking part, Wales was ranked 38th for reading, 40th for maths and 30th for the tests for science.
Reports by the school inspection body Estyn also stressed that literacy and numeracy standards in Welsh schools needed to improve.