Cap council tax, Conservatives urge Welsh government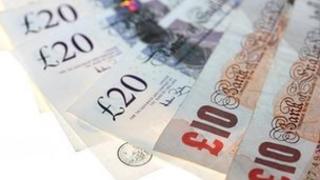 Council tax in Wales should be capped to prevent the cost of cuts being passed onto residents, the Conservatives have said.
They want the Welsh government to limit the tax from next April after its draft budget saw council funding slashed.
The shadow finance minister wants people protected from "the threat of mega council tax rises".
But the Welsh government said council tax should be set at a reasonable level and accused the Tories of "hypocrisy".
Ministers have previously ruled out caps and set an informal limit of a 5% rise.
The call from shadow finance minister Janet Finch-Saunders AM comes at the start of a week which will see all 22 local councils find out the details of how much money they will receive from the Welsh government.
She has previously called on local authorities not to cut frontline services or increase council tax bills.
Ms Finch-Saunders said: "Over the past three years, hardworking families in Wales have faced the highest council tax bills in the UK because Labour refused to pass on the Conservative council tax freeze.
"Carwyn Jones's Labour government opposed legislation to allow taxpayers local referendums on excessive council tax rises, so hard-pressed families have no protection, such as that introduced by Conservatives in England, from excessive tax rises."
Ms Finch-Saunders called on the government to consider a cap on council tax hikes to "shield hardworking people from the threat of mega council tax rises".
'Hypocrisy'
Local government settlements are being announced on Wednesday, with each council finding out how much funding they will receive, allowing them to work out how much council tax they will need to charge.
Councils already know it will be a tough year ahead, with one senior council figure saying local authorities were in a "very dark place," with at least two facing a possible bail-out.
Finance Minister Jane Hutt announced in the draft budget on Tuesday that the local government budget would fall from £4.648bn to £4.466bn in 2014, a cut of 3.91% in cash terms or 5.81% in real terms.
She said last week the government had been "supporting and cushioning" local government for the past three years, and that the priority was to protect health, schools and universal benefits such as free prescriptions, school breakfasts and bus passes for older people.
A spokesman for Local Government Minister Lesley Griffiths said: "The Welsh Tories are deliberately deceiving the people of Wales.
"Their hypocrisy knows no bounds. By their own admission, the Tories would slash a whopping 12.5% from local authority budgets next year - a cut that would create unprecedented damage on public services all over Wales."
Her spokesman added: "We would expect levels of council tax to be set at a reasonable level, taking into account the challenging financials circumstances for families across Wales.
"The one thing Wales can be certain of is, if the Tories had their way, vital services across the country would collapse overnight. Mercifully, we are not facing that scenario."
The Welsh Local Government Association has previously said councils could not continue delivering the range of services they currently provided, adding there would be a "massive impact for the Welsh public".
Chief executive Steve Thomas said once the settlements were known, he feared there would be "more pressure on the council tax".