£600m major projects unveiled after draft budget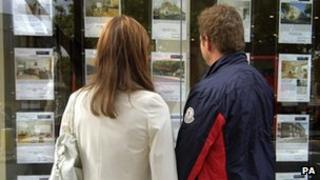 More than £600m is to be handed out towards major projects in a bid to stimulate the economy in Wales.
It includes £62m for the South Wales Metro transport project and £140m for a help-to-buy housing scheme.
Finance Minister Jane Hutt says it will create or sustain 11,000 jobs and tackle poverty.
The announcement comes a day after she unveiled big cuts for councils and in other areas to pay for a £570m increase in the health budget.
Ms Hutt announced a series of capital spending commitments, including:
Transport: £62m for phase one of a new scheme to create a South East Wales metro system through better bus and rail links. Another £40m will go towards dualling the A465 between Gilwern and Brynmawr, with £40m for improvements to the M4 Brynglas Tunnels and £17m for improvements to the A55 in north Wales.
Housing: £170m will be invested in housing, including £140m between 2014/15 and 2015/16 for Help to Buy Cymru - a new shared equity scheme for Wales to help people, especially first-time buyers, purchase new-build homes.
Economy: £82m to promote economic development providing access to finance for small businesses and support business growth
Health: £38m for improvements including the second and final phase of the Noah's Ark Children's Hospital for Wales in Cardiff.
Welfare: £70m to improve energy efficiency of homes focusing on those in fuel poverty. Plus, £15m for the capital element of a new care fund to support independent living working across health, housing and social care sectors and £6m for Flying Start, a project to help a further 3,000 children and their families
Environment: £20m for "vital" flood and coastal defences.
Ms Hutt said: "The tough economic conditions continue but I am determined to use every pound available to invest in infrastructure and boost economic growth in the long-term."
She said the new investment package, worth £617.5m, would "deliver real benefits across Wales," creating or supporting more than 11,000 jobs over the next two years.
"In addition to developing a range of innovative financing schemes to boost our capital investment, we will also take every opportunity to use European funding to maximise our investments in essential infrastructure that support growth and jobs across Wales," she added.
There is also extra investment coming as a result of a budget deal announced on Tuesday between the Welsh Government, Plaid Cymru and the Welsh Liberal Democrats.
This results in £15m being spent on a fund to help people with health issues live independently and free up hospital beds, while an extra £9.5m will provide robotic cancer treatment equipment and also on more telemedicine.
Peter Black, Welsh Lib Dem finance spokesman welcomed the funding for Help to Buy but said it was essential the scheme was up and running as soon as possible.
"Only last week the housing minister was unable to provide even a launch date for this scheme - that, frankly, is not good enough," he said.
"This scheme already exists in England and I'm concerned that once again Welsh Labour government inaction is allowing Wales' housing market to be left behind."
The Federation of Small Businesses (FSB) gave its support to the capital spending announcements, but urged ministers to ensure transport improvements were spread evenly and not to focus too much attention on their aim of building an M4 relief road around Newport.
"Other parts of Wales need joined-up transport too, such as improvements west of Pont Abraham (the end of the M4 motorway) and support for the A470, making sure Wales is connected up and economic growth is across Wales," said Iestyn Davies from the FSB in Wales.
However Emma Watkins, director of the employers' organisation CBI Wales, called on the UK government to give ministers in Cardiff the borrowing powers they were asking for as soon as possible, so the M4 relief road could be built, warning congestion was "strangling" the economy.
She endorsed Ms Hutt's announcements but said it was simply not enough.
"We respect the fact that we're in challenging economic times and probably, given the settlement that they have, the announcement that's been made, over £600m for capital investment, is welcome," she said.
"But it's still a very small amount if we look at the bigger picture and what's needed to drive forward the economy and to help the infrastructure that we have here in Wales."