GCSEs: Schools in Wales told 'do the right thing' on early entry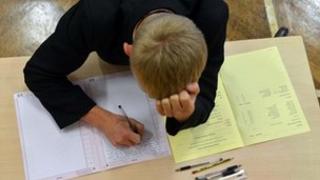 Schools will not be blocked from entering pupils early for their GCSE exams, Wales' education minister has said.
But Huw Lewis warned he would intervene to prevent schools "gaming the system" in the future if they did not stop voluntarily.
In the meantime, Mr Lewis appealed to head teachers to "do the right thing".
The UK government has said it will stop schools in England from entering teenagers for their GCSEs early.
Schools have been accused of entering pupils early so they can bank good grades and sit re-takes if they fail.
Under the changes in England, only pupils' first attempts will count towards league tables which rank schools according to how many pupils get good GCSE grades.
'Right thing'
There are no league tables in Wales. Instead, secondary schools are placed into performance bands which are based on a number of factors, including GCSE grades.
Mr Lewis said a review of the way schools are banded will look at the impact of early entry for GCSEs. The review will begin after the next set of banding data are published in December.
In a speech to the NAHT teaching union, Mr Lewis said: "I am not proposing to take immediate action, of the type proposed in England, I want schools to do the right thing by their pupils without direction from me.
"But, if we have to act to stop inappropriate gaming of the system in the future, then we will do so.
"Any school that puts forward a pupil for early entry, for any other reason than their academic best interests, is gaming. Where it is improperly used, early entry can cheat pupils of the opportunity to fulfil their potential."
He said a Welsh government-commissioned review of qualifications had found that sitting GCSEs early allowed high-achievers to start their A-levels sooner.
However, in general, early entry "was likely to disadvantage most learners".
Robin Hughes, secretary of the ASCL Cymru union, encouraged Mr Lewis to take a "more measured approach" than Mr Gove.
He said: "When pupils and teachers are given hoops to jump through, they can be forgiven for using ladders to help get them there.
"And these ladders, early and multiple entry, give some of our most disadvantaged pupils a leg up."