NHS Wales: Changes to help health boards 'balance books'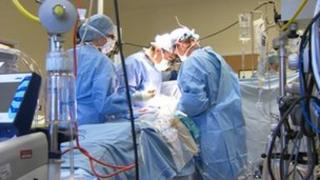 Health boards could be given three years to balance budgets instead of one under Welsh government proposals.
It says a new bill introduced in the Senedd on Tuesday would give those running hospitals more flexibility and allow "prudent long term decisions".
Health boards have struggled to balance the books by the end of each financial year despite extra government cash.
But Liberal Democrats said they feared ministers and health boards would "stack up a huge amount of debt".
If approved, the new system would come into force by the start of April.
Since Wales' seven health boards were set up, they have found it difficult to manage their finances on a yearly basis even with cash help from the Welsh government.
Hospital consultants say the situation means A&E departments are often at the point of meltdown during the run up to the end of the financial year, partly because bosses are trying to meet targets.
On Tuesday Health Minister Mark Drakeford stressed that the financial flexibility was "anything but open-ended".
"The bill will not allow local health boards (LHBs) to use the three year duty as a means simply to defer decisions on resourcing to the second or third year," he said.
"Financial disciplines will apply to LHBs from year one as part of the Welsh government's commitment to ensuring that there is rigour in the practical application of this bill."
Cancelled services
Ministers believe the National Health Service Finance Bill will give health boards a more realistic timetable for implementing bigger projects and would allow managers to come up with clearer, more coherent plans.
Mr Drakeford hopes the bill will make its way through the various stages of approval by January and come into force by the start of April next year.
But Liberal Democrat finance spokesman Peter Black said he feared the stacking up of "a huge amount of debt".
"Health boards will only receive allocations annually and any deficits will have to be funded on that basis," he said.
"As this is a rolling three year budget period this could mean that debts become unsustainable and services people rely on will be cancelled anyway because there will be no money left."
Borrowing
Plaid Cymru health spokeswoman Elin Jones questioned whether health boards would "do a better job of sticking to a three-yearly cycle, given their current failures in dealing with an annual budget".
She told Mr Drakeford: "I think £92m was the amount of additional funding that your department had to find last year, in order to bail out health boards.
"The health minister in 2017 could be facing a bailout of over £300m."
Conservative Shadow Finance Minister Paul Davies said it was time to consider allowing local health boards to borrow money to finance capital projects.
"Surely if local authorities have the ability to borrow then why not LHBs?" he said.
Mr Drakeford replied that "by and large" health boards did not have a revenue stream to repay such borrowing.