Cardiff expansion: Councillors back revised growth plan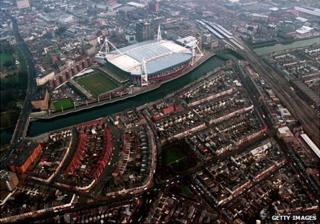 A blueprint for Cardiff's biggest expansion for more than 50 years has been backed by local councillors.
They agreed to allocate land for over 40,000 new homes by 2026 citing the city's role as an "economic driver" with the prospect of 40,000 new jobs.
Labour council cabinet member Graham Hinchey said "valued open spaces, river valleys and countryside backdrop" would be protected as the city evolved.
But Plaid Cymru said the council was building on too many greenfield sites.
The number of new homes has been revised and cut by 4,000 to 41,100.
The reduction follows consultation and research on population growth but the expansion would still be the biggest in the city in more than half a century.
The plan assumes Cardiff's population will grow from around 350,000 now to 395,000 over the next 13 years.
Speaking before the meeting, Mr Hinchey said Cardiff was at a "key point" in its evolution.
"We are witnessing a significant demand for new jobs and new homes, especially affordable and family accommodation.
"We have also reached the point where we need a new strategic sustainable transportation approach so our city can keep moving and improve links with surrounding areas.
"New development must also bring with it supporting infrastructure and community facilities.
"We also need to deliver development in a manner which best protects our valued open spaces, river valleys and countryside backdrop."
Green belt
The plan includes scope for 4,500 homes to be built between Lisvane and Pontprennau in north east Cardiff, 5,000 in the north west, 2,000 north of M4 junction 33 and 1,300 east of Pontprennau link road.
A further 650 homes could be built south of Creigiau.
The Labour-led council said the proposals now include a green belt on land north of the M4, to protect the Caerphilly mountain and Garth mountain areas which it said form a "strategically important green backdrop to the city".
But the leader of the council's Plaid Cymru group, Neil McEvoy, said it was "crazy" to build on so many greenfield sites.
"There are 10,000 empty homes in south east Wales which could be renovated and families could be put into - it's lunacy, it just doesn't make sense," he said.
Mr McEvoy said the new homes should be spread much more evenly throughout the south east Wales region.
"They should be putting in the transport infrastructure first, and then building around that.
"What they're going to do is cram everything into Cardiff, where we don't have the infrastructure in place anyway".
"I feel genuinely sickened by this, they're destroying our city."
Cardiff has about a quarter of the population of south east Wales but provides around a third of the jobs.
Every day 74,000 workers commute into the city, or 37% of the workforce.
A six week public consultation on the plans is due to begin in October.