Glyndwr University and Coleg Cambria should join forces, report says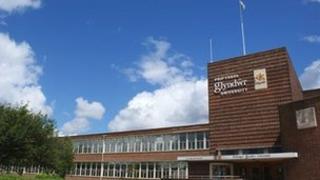 Glyndwr University and Coleg Cambria should join forces in a federation but stay independent, a review of higher education in north east Wales says.
Sir Adrian Webb's report calls for a federal strategy board to ensure the colleges meet the needs of the region.
The review also suggests Wrexham-based Glyndwr share teaching facilities and staff with the University of Chester.
It follows a Welsh government decision not to force Glyndwr into a merger with other universities.
In 2011 the then education minister Leighton Andrews rejected a recommendation by the Higher Education Funding Council for Wales (Hefcw) that Glyndwr should move into a group structure managed by Bangor and Aberystwyth universities.
He commissioned a review led by former University of Glamorgan vice chancellor Sir Adrian Webb which published its report on Wednesday.
Its recommended course of action was a federal model of Glyndwr and Cambria - which formed from a merger of Yale and Deeside Colleges last year - to be set up within 18 months.
'Effective collaboration'
It called for the setting up of a strategy board to ensure the two institutions developed a "a strategic, outward looking response" to the needs of the region.
The report also recommends the colleges develop relationships with institutions "further afield" to strengthen higher and further education, highlighting a Glyndwr-Chester link-up as a potential opportunity.
If the proposed federal structure for the two institutions proves to be unworkable, the review says a federation should be formed between Glyndwr and Bangor universities.
Education Minister Huw Lewis said: "The report is clear about the need for a more strategic approach, including stronger, more effective collaboration, in order to meet the current and future needs of the whole regional economy in north east Wales."
He added that his officials would consider the recommendations carefully and he would make a further statement in the spring.
'Positive dialogue'
In a statement Glyndwr University said it was "committed to addressing the economic needs of north east Wales in accordance with the government's economic strategic objectives".
"Like the minister, Glyndwr University has the higher education needs of the region at the forefront of everything it does." the statement said.
"We will be examining the report in great detail and look forward to further engagements with the minister, our FE [further education] partners and other stakeholders in the months ahead."
Coleg Cambria principal and chief executive David Jones said the institution was "committed to working in partnership to maintain and further develop our role as a key driver of economic, social and community development".
"The board of Coleg Cambria will consider the Webb report, alongside other developments, at its meetings over the next few months, and we will continue to maintain our positive and regular dialogue with Glyndwr University," he added.
But North Wales Liberal Democrat AM Aled Roberts expressed concerns about the length of the restructuring process.
"I understand that we now have a new minister who will want to mull things over, but this whole staggered process has been having a negative effect on Glyndwr University," he said.
"We are now being told that a decision won't be made until the spring.
"While I regret that means yet further delay, I urge the minister to ensure that he sticks to his word."