Damian McBride's behaviour 'dreadful', says Paul Murphy MP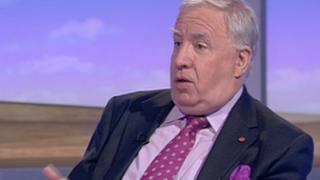 Former Welsh Secretary Paul Murphy has criticised the "dreadful" behaviour of a Labour spin doctor who leaked stories to smear opponents of ex-prime minister Gordon Brown.
The Torfaen MP said he was "delighted" when Damian McBride was sacked, but said he should have gone sooner.
In a new book, Mr McBride claimed he was acting out of loyalty to Mr Brown, who was unaware of his actions.
Mr Murphy said the behaviour was not part of "healthy wholesome politics".
Appearing on the Sunday Politics Wales programme, Mr Murphy, who also served as Northern Ireland Secretary during Labour's time in office between 1997 and 2010, said of Mr McBride: "I didn't know him, anything about him, but when he went I was delighted and he should have gone before.
"I think that sort of stuff really isn't good in politics. It's no coincidence, I suppose, that he's come out with this stuff at the same time as the Labour party conference, presumably to get more money out of it.
"I don't like it and people of my generation never knew anything about that kind of thing in politics.
"But whatever age you are it isn't the way to conduct political business."
Labour leader Ed Miliband said that he urged Mr Brown to sack Mr McBride over concerns the spin doctor was briefing against senior party colleagues.
Mr Miliband, who worked with Mr McBride at the Treasury, said he had been "worried" about such activities, telling The Andrew Marr Show on BBC TV that he urged Mr Brown to sack his aide.
Mr Murphy said: "A lot of these things are done in an individual way in that the spin doctoring is something that you do personally.
"It strikes me that this really was something that he did himself and many people simply weren't aware of it.
"But when it came out - and how dreadful it was - it was good that he went because that type of activity simply doesn't fit in with a healthy wholesome politics."