Snow-hit farmers: Subsidy payments six weeks early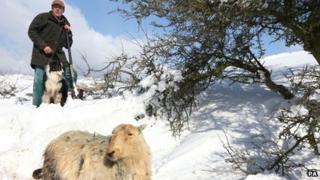 Farmers in Wales worst-affected by the spring's severe weather will receive subsidy payments six weeks early.
Around 3,300 farmers will receive up to half their single farm subsidy from 16 October.
Farmers in areas who were allowed temporarily to bury animals will automatically receive the money.
Natural Resources Minister Alun Davies said Wales was the only part of the UK to bring forward the payments to "ease some of the pressures" on farmers.
North and mid Wales were hit by very heavy snow for several days in March, with large drifts in many areas preventing farmers from reaching their sheep at the height of the lambing season.
Financial pressures
Some farmers in the uplands spent weeks finding the bodies of animals buried by the blizzards.
Rules requiring farmers to pay others to remove carcasses from their land were temporarily relaxed as the conditions made collection by road impossible.
Farms in parts of Conwy, Denbighshire, Wrexham, Gwynedd, Flintshire, Ceredigion and Powys were allowed to bury their own sheep, lambs and calves over a set period.
Mr Davies said: "I am pleased that we are able to provide farmers with earlier access to funding to help alleviate the financial pressures some are facing following the loss or depletion of their lamb crop earlier this year.
"We are approaching the time of year when farmers across Wales sell their lamb and sheep.
"I therefore recognised that we needed to act now to help farmers who will be faced with receiving less of an income this time of year because of the losses they suffered in March and April."