'Pitiful' amount of Welsh produce at museum, says Plaid Cymru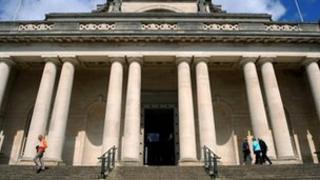 National Museum Wales is facing criticism over the amount of Welsh food and drink its private caterers are required to serve.
French-owned Elior has a 10-year contract requiring that a minimum of 22% to 24% of Welsh produce is served.
Plaid Cymru said the museum was a showcase to the world and the situation was "unacceptable".
The museum said it wanted Welsh produce but also value for money from a firm with the required expertise.
The £28m contract affects National Museum Cardiff; St Fagans: National History Museum; and the National Waterfront Museum in Swansea.
It was re-awarded in January to Elior, which has provided the museum's catering services since 2006.
Details of the Welsh produce requirement in the contract have emerged following a series of Freedom of Information requests by Plaid Cymru.
The contract gives the company a target of using a minimum of 22% of food and drink produced in Wales in its first year, rising gradually to reach 24% in year five.
'Pitifully small'
Plaid Cymru Assembly Member Lindsay Whittle said: "The national museum is one of Wales' most important showcases to the world, welcoming well over one million visitors every year.
"But here we have a situation where the museum officials are failing to showcase Welsh produce, which I find unacceptable."
Mr Whittle described the museum's Welsh produce targets as "pitifully small".
"It should have ensured a far greater Welsh produce input into its catering contract and it is disappointing that they've been so unambitious," he added.
Responding to the criticism, the museum said in a statement: "As a public body we had to balance our desire for Welsh produce against our needs to obtain best value and to appoint a partner with the skills and expertise to operate successful catering concessions at three of our major sites."