Severn Barrage: Ministers say case for £25bn plans unproven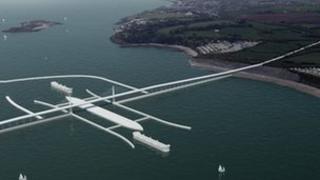 Plans for a £25bn barrage in the Severn Estuary do not demonstrate the benefits claimed, the UK government says.
Hafren Power wants to build an 11-mile barrage between Lavernock Point near Penarth, Vale of Glamorgan and Brean near Weston-super-Mare, Somerset.
MPs in June said Hafren had failed to make the case that it would be good for the economy or the environment.
Key supporter Neath MP Peter Hain last week feared the plan was "dead in the water" in the current Parliament.
Backers of the scheme argue the tidal barrage could generate 5% of the UK's electricity.
But in its report, the House of Commons' Energy and Climate Change Committee said the case for the barrage is "unproven" and Hafren Power "has yet to provide robust and independently verified evidence of the economic, environmental and technological viability of the project".
Responding to the report on Wednesday, ministers said: "In its current form, the Hafren Power proposal for a Severn barrage does not demonstrate that it could deliver the benefits it claims it would achieve."
The government said it needed "robust and credible evidence" for such an "unprecedented and huge project" as the Hafren Power barrage.
This would include an in-depth study of the environmental impact, detailed environmental compensation and mitigation plans and evidence of the flood impact.
Ministers said Hafren had had not provided "compelling evidence of their likelihood of raising the necessary levels of finance for such a project".
They called for detailed evidence to back up claims on job creation and economic benefits which should be independently verified.
When the scheme was launched, Mr Hain said the barrage would bring "considerable benefits" to the UK - creating about 20,000 jobs and generating 30,000 more in the supply chain and other parts of industry.
The electricity generated would be equivalent to three or four nuclear power stations and thousands of wind turbines, he said.
Simon Bird, chief executive of The Bristol Port Company, said: "This is a damning indictment of the feeble and unconvincing barrage scheme.
"We now have the Government, MPs on four independent committees and the scientists at the Houses of Parliament all saying that the Hafren Power proposal is thoroughly unconvincing."