Scottish referendum and implications for Wales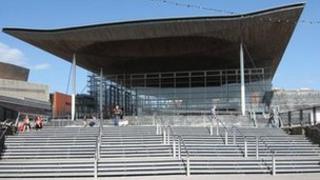 The two sides of the Scottish referendum campaign have spoken about the potential impact on Wales with exactly a year to go until the vote.
The Better Together Campaign, which is against a yes vote, says Wales is a good example of devolution being rolled out without the need for independence.
Yes Scotland, the official campaign for independence, says it could awaken similar demands in Wales.
First Minister Carwyn Jones wants a UK constitution which favours devolution.
If there is a yes vote in a year's time in Scotland it is unclear what the impact will be for Wales but one Labour MP in Edinburgh says there would be problems for Wales as without Scotland, it would be attached to one much larger country.
Ian Murray, the Labour MP for Edinburgh South, says there would be political and economic implications from a yes vote and he describes the debate about the referendum leaving Scotland in a "political paralysis".
He said: "The whole of the political system is paralysed at the moment and that is danger that could happen to Wales if this constitutional argument is extended there."
He said there would need to be "some kind of readjustment" to a devolved settlement in Wales in the wake of a Yes win.
He added: "While were obsessing about the constitution, we're not talking about the real issues that really matter to people."
Stuart McMillan, an SNP member of the Scottish Parliament, says Wales has nothing to fear from Scottish independence, and should see it as an opportunity.
More powers
"We'll all agree that the UK is a tremendously centralised country despite the fact we have a Scottish Parliament, the Welsh assembly and a Northern Irish assembly," he said.
"With independence for Scotland that will make a massive difference for Scotland of course and it might actually have an effect upon elsewhere within the rest of the UK that could engender and force a wider debate in terms of 'why should everything be centralised in London?'
"Why couldn't there be more powers going elsewhere within the rest of the UK?
"Whether that will be Wales getting more power or independence, that's a discussion for others to have, not for me.
"But Scotland becoming independent could open up that debate."
Most of the polls on the referendum put the No camp in the lead but both sides admit there is a significant number of people who may not make up their mind until next summer.
Alistair Darling, the head of the Better Together Group, estimates that there could be as many as a 1.5m people who have not made up their minds.
People living in Scotland will be given the chance to answer yes or no to the question "Should Scotland be an independent country?" on September 18 2014.
In a speech on Tuesday in Cardiff, First Minister Carwyn Jones said devolution had been "scattergun" and needed to move towards a "durable lasting settlement".
He said there should be an end to what he described as 15 years of "ad hoc tinkering with the constitution".
Mr Jones called for a new written UK constitution which favours devolution.
He said that "where it makes sense to take a decision in Wales, it should be taken in Wales".