Lib Dem peer celebrates 60 years of party conferences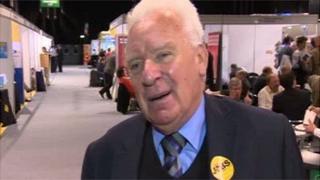 Mention 1953 and people tend to think of the coronation or the conquest of Everest.
But that year also saw the first attendance at a Liberal Democrat conference (or Liberal Assembly as they were then known) of Roger Roberts, now Lord Roberts of Llandudno.
As a schoolboy he'd hoped to attend the 1952 conference in Ilfracombe but illness intervened.
He remembers his first conference - Buxton 1953 - where the police presence extended to one constable. Here in Glasgow, he remarks, half the Scottish constabulary appears to be guarding the Lib Dems.
One year later, the conference went to his home town of Llandudno. It was there, many years later, that he sat on the stage to hear the then leader David Steel tell delegates: "Go back to your constituencies and prepare for government."
'Amazing servant'
A Methodist preacher by profession, he's described himself as the original manic street preacher.
His political career has been marked by a consistent lack of electoral success.
"They tell me I'm waiting for a dead Russian," he would say during campaigns. "The late Serge."
He fought and lost the parliamentary constituency of Conwy five times and lost in Europe once, only later being given the consolation prize of a seat in the House of Lords.
He is no fan of the Westminster coalition. As he put it on Facebook: "Have campaigned for Liberalism all these decades. Good times and bad. No intention of rejecting MY Liberalism or letting others, wherever they are from undermine or destroy the party to which so many of us have dedicated our lives."
Lib Dem leader Nick Clegg told me: "Amazing, it doesn't half put a lot younger people than him - like me - in their place.
"I heard he'd wanted to go to the Liberal Assembly in Ilfracombe in 1952, the year before, but he couldn't because he had measles. He's an amazing servant."
Sixty years of conferences puts me to shame too - I've only been coming to these gatherings since 1988, with the odd year off for good behaviour. Mind you, I tend to go to three UK conferences a year, which on one measure would put me ahead of Lord Roberts on the conference veteran scale.