Clegg blames Conservatives for delay on Welsh powers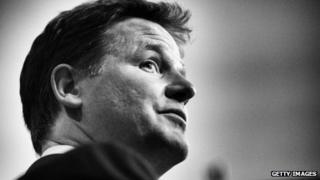 Good afternoon from Glasgow on Day Three of the Liberal Democrat conference.
As is usual at these gatherings, Nick Clegg finds himself having to defend his party's record in government at Westminster.
This year, he is also using the conference to lay bare the tensions of coalition government, highlighting areas where the Lib Dems and the Conservatives disagree.
Both parties supported the setting up of the Silk Commission on the Welsh assembly's powers, although for different reasons.
The Lib Dems believe in a federal UK and think Wales should have more powers. The Tories believe a Welsh government with responsibility for raising some of the money it spends would be more accountable.
So what could possibly go wrong? Nick Clegg promised a UK government response by the end of spring. The leaves are starting to fall and we are still waiting.
So why the wait? The Conservative half of the coalition have concerns about devolving stamp duty land tax and its impact in border areas. They say this explains the delay.
Nick Clegg says it goes deeper than that - into a wider political issue about devolution: "I just need to get agreement from people who don't share my view that this would be good for Wales to change their minds and endorse it"
He acknowledged that time is running out for the UK government to legislate on the issue before the general election in May 2015.
Mr Clegg didn't name names and didn't want to go into "the gory details" of the dispute - but his target appears to be his Conservative cabinet colleague David Jones.
A source close to him would say only: "The government has responded to industry concerns about proposed devolution of SDLT (stamp duty land tax) by consulting further. We are considering the further representations that have been made."
Perhaps Mr Clegg is trying to manage expectations as the anniversary of the report's publication approaches, but I wouldn't hold your breath. The view in Downing Street is that the issue is an obsession of the Cardiff bubble that few others are talking about.