Andrew RT Davies: 'I won't settle for chicken feed'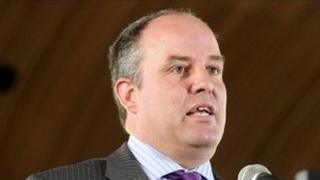 The Conservatives have accused Plaid Cymru and the Liberal Democrats of being too cosy and "settling for chicken feed" in budget deals with Labour.
The minority Welsh government got its last two assembly budgets through after agreements with Plaid and the Lib Dems.
The two parties will try to put more pressure on ministers by working together this autumn.
Tory leader Andrew RT Davies denied the Plaid-Lib Dem deal sidelined him.
In an interview with BBC Wales' Sunday Politics, he said he wanted to offer an alternative to the "failed cosy politics of the left-wing club".
'Left-wing consensus'
"In the first 14 years of devolution we've had a left-wing consensus that has delivered nothing for the people of Wales. Just more stagnation," he said.
AMs return to the assembly from their summer recess on 23 September.
With 30 out of the 60 seats in the assembly chamber, Labour needs support from one of the other parties to get its budgets passed.
Ministers will publish their draft budget on 8 October, kicking off a round of inter-party talks which give the opposition a chance to extract concessions from Carwyn Jones' minority administration.
As they did in the last two years, the Tories will again press for increased funding for the NHS.
Mr Davies said: "Politics is about creating an alternative. I'm not prepared to settle for chicken feed.
"What you've got to be able to do is actually agree a budget that makes the benefits and improvements in people's lives.
"When I first met Carwyn Jones in the first budget round I said that I wouldn't settle for under £140m or 1% of the Welsh budget.
"What I am saying to you is if you want to settle for chicken feed that's for others to decide. The budgets have been settled for the last two years for £20m roughly, on each of the two occasions. I don't believe that that is putting pressure on the Welsh government."
The last deal between Labour and Plaid set aside an extra £20m for apprenticeships this year and next, and £10m for a science park in north Wales.
Plaid leader Leanne Wood said: "It was the best deal we could come up with last year and we were very proud of what we were able to deliver. However we recognise by pooling our joint resources with the Lib Dems we can jointly achieve much more."
She added: "I'm not going to get into trading insults with the Tories. We've got a set of proposals that we will put forward to the government jointly with the Lib Dems in good time.
"The leader of the Tories in Wales is in a position to either support or not support whatever proposal we put forward and when he is in a position to negotiate and do deals himself then he's in a position to trade insults - but until then I think he's not in a very strong position."
A spokesperson for the Welsh Liberal Democrats said: "The leader of the Tories in Wales knows that we are pushing for more money for children from poorer backgrounds to help them with their education and life chances. We also want to ensure a strong economy for Wales.
"He is more than welcome to join the Welsh Liberal Democrats and Plaid Cymru in that endeavour.
"Whinging at the sidelines won't help much in our battle to improve the education system, the health service and the poor economy that Labour had left us with."
The Sunday Politics is on BBC One Wales at 13:30 BST on Sunday.