Cardiff 10k: Martin Rees claims new over-60s world record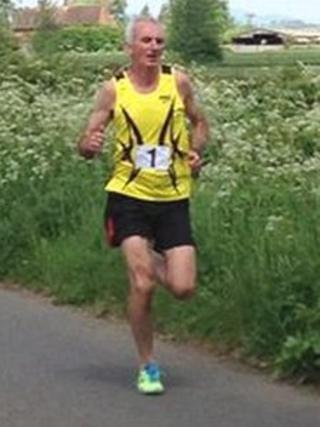 A veteran runner has claimed a world record for men over 60 during the Cardiff 10k race.
Retired steelworker Martin Rees, 60, from Port Talbot, completed the course in central Cardiff in 32m 48s.
He now holds 37 records in various age and distance categories from age 45 upwards.
Organisers called his run an "incredible achievement" and said he was an "amazing role model".
Mr Rees was running for the Tata Steel team.
An employee of 33 years, he retired earlier this year and had said he was aiming to break a number of records for his age category, M60-64 (men aged 60 to 64).
He said of his race: "The conditions were good and everything was quite right about it today.
"I obviously didn't go out with the first group but I went with the second and managed to get through that."
Mr Rees did not start running until he was 37, but now trains seven days out of every eight.
"Everybody's got one little hidden talent and they don't know what it is," he said.
His time this year is an improvement on last year's time, and he believed knowing he was in a position to set a new record for his new age category gave him the extra impetus.
He is now hoping to better the over-60s half-marathon world record time he set in Bath in March of 1hr 11m 32s at the Cardiff half marathon in October.
In the meantime, he will be celebrating his latest achievement with "a couple of pints" on Sunday evening.
'Role model'
Roy Thomas, chief executive of Kidney Wales, which organises the race, said: "Whilst the Cardiff 10k is as much about fundraising as it is athletic achievement, I was absolutely delighted to watch Martin break the world record for 10k in the over 60s category.
"It really is an incredible achievement and Martin is an amazing role model that we can all look up to, and it is all the more incredible considering he only took up running in his late thirties.
"The Cardiff 10k is growing in race numbers and profile each and every year and it is runners like Martin who inspire others to get involved."
"I am already looking forward to next year's event, where we hope for another race record in terms of competitor numbers, and perhaps a few more world records too."