NHS 'queue jumping': AMs want inquiry over conflicting accounts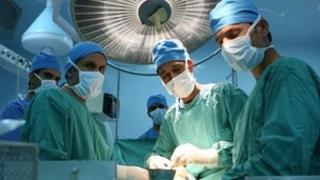 Patients might be jumping the queue for NHS treatment by paying to see hospital consultants privately, a committee of assembly members has warned.
It called for an investigation by the public spending watchdog after hearing conflicting accounts.
AMs suggested patients who see specialist consultants privately might be able to get on a waiting list for treatment sooner.
The committee added that consultants' long working hours were unsustainable.
A scenario that could allow for "queue jumping" within the system is described in a report by the assembly's public accounts committee.
After visiting their GP a patient who pays to go private could see a consultant within weeks, instead of waiting months to see the same consultant on the NHS.
In either case, the patient would spend the same amount of time on a waiting list if they are referred for treatment on the NHS.
But by paying for a private consultation earlier in the process, patients could reduce the total time between their first visit to the GP and finally being treated, the report says.
It warns about a "perverse incentive" for consultants to have longer NHS waiting times so that more people will see them privately.
AMs said the evidence they received was "inconsistent".
Cardiff and Vale University Health Board appeared to indicate people could speed up the process, but the Welsh government said it was not possible, as did Hywel Dda Health Board.
The government said "procedures, guidance and rules" were in place to ensure equal treatment.
Despite the assurances, AMs said they remained concerned "that this is potentially an issue".
The report calls on the auditor general to investigate because of the "lack of clarity".
'Pain'
The inquiry follows an earlier report by the auditor general who found some hospital consultants were working excessively long hours, despite the introduction of a contract that was supposed to deal with the problem 10 years ago.
The committee says many consultants think an annual review of their job plans is a "tick-box exercise".
Mandatory job plans were introduced to allow consultants and their NHS employers to agree what they would do during a working week.
Committee chairman Darren Millar AM said the contract had improved recruitment and staff retention, but the Welsh government needed to provide more "strategic leadership".
"The dedication of individual consultants to addressing patients' needs is commendable," he said.
"But we don't believe the status quo of so many consistently working such long hours is sustainable."
Cathy O'Sullivan, acting director of the Board of Community Health Councils in Wales, told BBC Radio Wales if queue jumping was happening they would be "very concerned".
"Certainly people shouldn't be able to access a private consultation to jump a list or circumnavigate or expedite on any treatments within the NHS," she said.
"However, if they're in pain, if they want to seek private treatment rather than wait for the normal referrals or they're very concerned, then that should be their right to go down which ever route they choose or...can afford."