Farm wages row to be settled by Supreme Court in December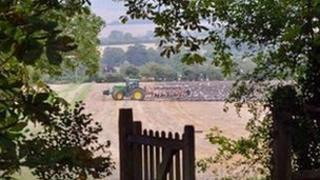 A row over plans to protect farm workers' wages in Wales will be settled by the Supreme Court in December.
AMs passed a law giving Welsh ministers the power to set pay after the Agricultural Wages Board (AWB) serving England and Wales was abolished.
But UK Attorney General Dominic Grieve blocked the bill saying it was not within the assembly's competence.
The Supreme Court will consider the matter on 5 December and pay will stay protected until the decision is made.
The row started in July when AMs voted in favour of a bill on agricultural wages following an emergency three-week law-making procedure.
It came a month after the 65-year-old AWB was abolished.
The board oversaw six pay grades relating to workers skills, qualifications, experience and their level of responsibility.
All the pay levels were set higher than the statutory minimum wage, currently £6.19 for workers aged 21 and over (to change to £6.31 from October).
The Welsh government opposed abolition of the board but was told by Whitehall it was not a devolved matter since it was mainly about non-devolved employment issues rather than agriculture.
Scotland and Northern Ireland have their own wages board.
Rural Affairs Minister Alun Davies said the bill would help ensure a prosperous future for Welsh agriculture.
Retaining skills
But earlier this month the Attorney General wrote to the assembly raising objections.
"I am not convinced that the Bill is within the National Assembly's competence and I have therefore decided to refer it to the Supreme Court," he wrote.
"I hope that this reference will give us clarity in respect of important questions about the breadth of the National Assembly's competence."
In response, the Welsh government defended its bill saying it would "encourage new entrants into the agricultural industry and will help the sector to enhance and retain important skills in order to ensure the future prosperity of the sector".
A spokesperson added: "We continue to maintain that the Bill is within the legislative competence of the Assembly.
"We have had confirmation that the UK Government intends to seek to continue the agricultural wages regime in Wales beyond 1 October until the Supreme Court makes its ruling, which we welcome."
Abolition of the AWB divided farming unions, with the Farmers' Union of Wales (FUW) saying the board was "vital" while the National Farmers' Union (NFU) thought it "outdated and unnecessary".
Carmarthen-born Lord Justice Thomas, newly appointed Lord Chief Justice of England and Wales, will hear the case at the Supreme Court on December 5.
Judgement is expected to be reserved with a decision to be announced in the new year.