Reading test shows pupils' ability falls by high school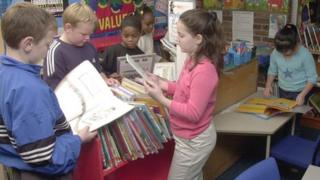 The reading ability of pupils in Wales shows a marked decline between primary and secondary school, according to new figures.
The first results of standardised national testing indicate that while 8.5% of Year 2 pupils scored below average, the figure rises to nearly 16% by Year 7, the start of high school.
The tests were introduced amid concerns about falling standards.
NUT Cymru said it still questioned the value and relevance of tests.
The test results are not designed to assess overall performance but allow comparisons to be made between different age groups.
They are standardised to give a national average score range of 85 to 115 and then measure what percentage of pupils fall above and below this range.
The figures show a significant drop in relative reading ability as pupils move into secondary school.
The difference is most marked among boys, who consistently score lower than girls.
'Little relevance'
In Year 2, just over 10% of boys scored below average for reading but in Year 7 the figure has risen to more than 19%.
However, the results for the national numeracy test show a much smaller gap between the performance of boys and girls with scores also relatively stable across all age groups.
The Welsh government has welcomed the results as giving "a much better idea about how Welsh learners are performing in relation to their peers" including indications of which local authority areas needed to improve.
"As confirmed by the results, girls are outperforming boys at all stages of their education with regard to literacy and numeracy," said a spokesperson.
"This is a complex issue with a number of possible root causes, and it's something that we will need to address further."
The spokesperson also pointed out that tests were only one source of data on pupils and schools being considered alongside a range of other information.
But teaching union NUT Cymru said it remained sceptical about the value of the tests.
"Certainly standardised testing as a rule fails to truly reflect the rounded abilities of children which is one reason we have been opposed to this system," said NUT Cymru policy officer Owen Hathway.
"It is hard to really put the results into context.
"Feedback suggested that the content of the tests was difficult to understand and held little relevance to the lives of children in Wales.
"With that in mind it is hard to interpret if the results really are a true reflection of the abilities of students."
The Welsh Conservatives' shadow education minister Angela Burns said the decline in reading abilities could be solved by her party's proposal for a new range of middle schools for 8-14 year olds in Wales.
"While I welcome the publication of these results, there is scope to introduce narrower bands to reflect a greater breadth of pupil performance to highlight where our education system can improve," she said.
"These results show that there remains a persistent gender gap, mirroring outcomes in successive GCSE and A-level results.
"The noticeable decline in high reading and numeracy scores between primary and secondary school years reaffirms the need to bridge the gap by introducing a new middle phase, which could smooth the transition between schools."