Over half 'want welfare and benefits devolved to Wales'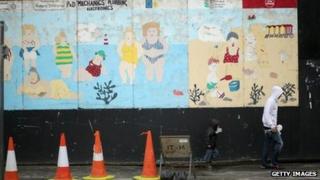 Just over half of people in Wales believe welfare and benefits should be controlled by the Welsh assembly, a new poll suggests.
The survey was carried out for the Silk Commission which is examining whether further powers should be devolved.
Some 51% believed responsibility for welfare, currently held by the UK government, should transfer.
But a "significant minority" want the UK government to take back control of the NHS and education from Wales.
Other areas where the poll indicated an appetite for further devolution included:
70% believe powers over renewable energy, including large wind farms, should be with Wales
63% want policing powers transferred to Wales.
However, despite a clear majority wanting to retain powers over health and education, 27% said they would prefer the UK government to run the NHS, and 20% said they would rather education be run from London.
Some 46% of people surveyed also said the UK government should retain control over the benefit system, with 3% unsure.
Overall, the poll indicates that the Welsh public are more satisfied with the way the Welsh assembly is carrying out its work than the UK parliament.
Respondents gave it an average rating of 5.6 out of 10, compared with 4.3 out of 10 for Westminster.
Overall, 62% of respondents wanted to see increased powers for the assembly, including the 9% in favour of full independence, as against 24% favouring the current arrangements.
However, a majority - about two thirds - of these want the further powers within the next five years or beyond, rather than the next year or so.
Commission chair Paul Silk said the results provided a real insight into the public's views.
"The results are generally consistent with trends identified in other surveys, but whilst they show a continued growth in support for the National Assembly as an institution and for it to have further powers, we need to be mindful that the people of Wales have differing views," he said.
Mr Silk added that the commission's terms of reference were clear that their recommendations must command a wide degree of public support.
"This poll is an important method to help us assess public opinion on Welsh devolution and attitudes on where powers should lie," he said.
"I hope the poll's findings will stimulate wide debate on these important issues," he said, adding the commission was "still firmly in listening mode".
"We are taking evidence up until 27 September so please get involved, share your views and help us shape Wales' future."
A spokesman for the Welsh government said: "We welcome the publication of this report, which provides strong support for the written evidence we submitted to the Silk Commission earlier this year.
"The report shows that people in Wales are more favourably disposed to the work of the assembly and the Welsh government than they are to the UK parliament and government, so it is no surprise that they want the assembly to retain its existing powers and add to them where appropriate.
"For example, we argued in our evidence for devolution of responsibilities for renewable energy and this report shows strong support for this."
Beaufort Research interviewed a representative sample of 2,009 members of the Welsh population aged 16 and above between 21 May and 12 June 2013.