Young more likely to say 'don't know' on devolution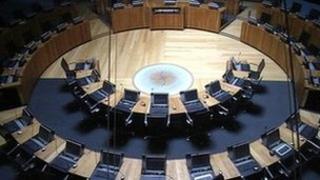 Young voters are no more in favour of devolution than older people, according to research into political attitudes.
Surveys since 1997 show 18 to 35-year-olds were more likely than older age groups to be undecided about how Wales should be run.
The findings show a bigger proportion of under-35s say they "don't know" when asked what kind of devolution settlement they preferred.
The Welsh government blamed a "lack of clarity" over the assembly's powers.
The research was carried out by a project made up of the Wales Governance Centre at Cardiff University, the Institute for Welsh Affairs think tank and the pro-devolution campaign Tomorrow's Wales.
The UK's Changing Union: Ein Dyfodol [Welsh for Our Future] group said it reflected a lack of interest in conventional politics among young people.
It added that the complexity of Wales' devolution settlement might also turn off people who are not interested in politics.
Fourteen years since the assembly was established, the numbers of younger people choosing "don't know" options in surveys about devolution has not dropped.
'Wake-up call'
Matthew Francis, chair of the campaign group, said: "It's quite frightening that at a time when important decisions are being taken with regards to the Welsh constitutional settlement that the number of young voters who feel they don't know what their preference is is still proportionately high.
"This is a wake-up call for everyone involved in raising awareness of the democratic process in Wales for the need to ensure that people know and understand how devolution works in Wales."
The Welsh government has called for changes to the way its powers are defined, creating a so-called "reserved" powers system, such as the one in Scotland.
It said more "clarity" over what is and is not devolved to Cardiff would help get more people interested.
The assembly's powers are currently being reviewed by the Silk Commission, set up by the UK coalition government.
A Welsh government spokesman said: "We want Wales to be a vibrant democracy which fully engages with all parts of society, including young people.
"The lack of clarity about the National Assembly's current powers and Wales' position in the Union is a real barrier to this.
"Our evidence to the Silk Commission stressed the importance of a simpler and clearer devolution settlement so that it is clear to everyone who is responsible and accountable for what.
"Implementing this should serve to enhance the general public's understanding about how Wales is governed."