Carwyn Jones shrugs off Anglesey by-election defeat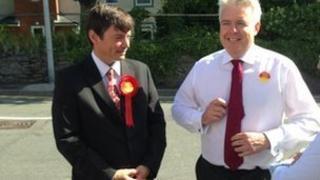 Welsh Labour leader Carwyn Jones has shrugged off his party's defeat in the Ynys Mon assembly by-election.
He said Labour's Tal Michael faced an "uphill struggle" against Plaid Cymru's local candidate Rhun ap Iorwerth.
Plaid topped last Thursday's poll with 12,601 votes over Labour's 3,435. UKIP came a close third with 3,099.
The first minister said Labour's second place was better than the 2011 assembly election when the party came third.
Mr Jones was speaking to BBC Wales in Blaenau Ffestiniog, Gwynedd, at an event to mark the 50th anniversary of Ffestiniog Power Station.
It was the first time he had commented publicly on the by-election result, in which the Conservative vote collapsed and the Liberal Democrats lost their deposit while being beaten into last place by Socialist Labour.
"I think it was particularly unusual on Ynys Mon," Mr Jones said.
"Rhun ap Iorwerth was a local candidate. I had that on the doorstep quite often, people saying they were quite happy to meet me but Rhun's from the island, and we knew that was going to be an uphill struggle.
"I think it's particularly bad for the two coalition parties in London.
"From our point of view we came second, better than where we came in the election in 2011, but of course we know that the next assembly election is in 2016."
A Labour victory last Thursday would have given Mr Jones a majority in the assembly - 31 out of the 60 seats - meaning he would no longer have needed to rely on opposition party support to pass legislation in the Senedd.