Cash-strapped councils call for lottery funding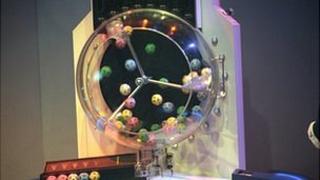 Lottery funding could shore up public services facing cuts, says the body representing 22 councils in Wales.
The Welsh Local Government Association (WLGA) wants Big Lottery Fund (BLF) rules changed so it can support council services such as leisure centres.
These promote BLF aims of improving health but the WLGA warns they could face closure.
The BLF said it cannot pay for activities "statutory bodies must provide".
In June, Local Government Minister Lesley Griffiths warned the Welsh government would no longer be able to protect councils' funding due to "unprecedented financial challenges".
WLGA chief executive Steve Thomas said the BLF runs "hugely beneficial schemes" in the community but is restricted from supporting public services.
He said revising the BLF constitution would allow it to work with councils and the voluntary and charity sector so activities and projects can compliment one another.
Mr Thomas said: "Facilities like leisure centres are ultimately discretionary under the local government funding framework and yet they contribute significantly to the promotion of BLF aims such as improving public health, as well as tackling obesity and other social factors such as alcohol misuse."
He added that while local government was able to receive some lottery funding for services there was a danger that forthcoming cuts would mean some facilities being lost altogether.
"Within this context, it may well be time for the BLF to rethink their existing models and break new ground in public involvement, social investment and above all, making a difference to local communities," he said.
'Hard to reach'
Responding to the call, the BLF said it had funded programmes with the Welsh government to support the transfer of assets, such as land and buildings, from public sector organisations to community ownership.
"National Lottery money has also been matched with European funding to help hard to reach groups build their skills and confidence and progress into employment," he said.
"However, the BLF does not pay for activities that statutory bodies must provide."
The spokesman said its funding awards were made to improve the lives of people and communities most in need.
"We constantly keep our practice under review and always welcome contact from community groups to talk over funding needs for their local projects," he added.