MEP Swinburne leads list of Conservative Euro candidates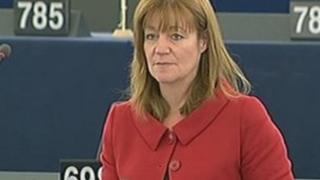 Conservative MEP Kay Swinburne remains top of the party's Welsh candidates' list for the 2014 European election.
She has been one of Wales's four MEPs since the last election to the European parliament four years ago.
Dr Swinburne is followed on the candidates' list by Aled Davies, Dan Boucher and Richard Hopkin, following a ballot of party members.
Wales's other current MEPs are Labour's Derek Vaughan, Plaid Cymru's Jill Evans and UKIP's John Bufton.
Ms Evans topped Plaid Cymru's internal poll for their top slot for next year's election, which is run using a proportional representation system.
Mr Bufton has announced he will not be seeking re-election for UKIP.
Alec Dauncey is leading the Liberal Democrat list while the other parties have yet to make their selections.
Welsh Conservative leader Andrew RT Davies described his party's list as "an extremely strong team of candidates from all corners of Wales and from a number of different communities".
"The voluntary sector, business and farming industries are all well represented in this list, as is fluency in the Welsh language," he said.
"Each of these candidates already has a wealth of experience in representing their communities - both in elected and non-elected roles - and strong records of delivery for Wales.
"I am sure this will prove to be a winning formula in next year's elections."